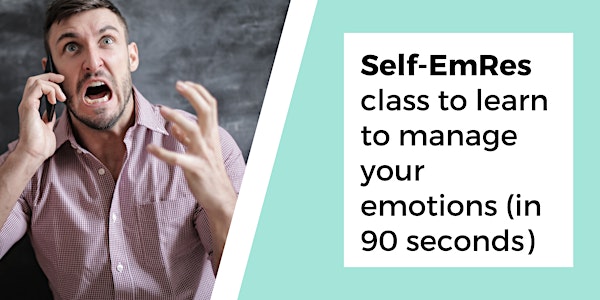 Learn how to manage your emotions in 90 seconds (Self-EmRes class)
No one should have to hold on to trauma or live with overwhelming emotions
Date and time
Monday, March 27 · 11am - 12pm PDT
Refund Policy
Contact the organizer to request a refund.
Eventbrite's fee is nonrefundable.
About this event
If you are experiencing some blockages in your life or you have trouble managing your emotions more often than not, this training is for you.
We all face situations in life that fill up our glasses, and the last drop might not be the biggest but it's certainly the one that could ruin the day or make your anxiety go wild.
What if you could empty your glass every day and never have to deal with the consequences of an overflowing glass?
In this training, I will teach you how emotions work and how you can start managing them in just 90 seconds. You will walk out with an usable tool that if used often, will change your life.
This process, also known as viscero-somatic quieting, is basically teaching your body not to react to the stimulus that is bothering you.
Once your body has learned that the stimulus that you're reacting to is no longer dangerous, it will heal all situations related with it. And the best part is that you don't need to go to the original event that generated the trauma!
Let's say that you go bitten by a dog when you were younger, and now you get scared every time you see a dog in the street. We work with the problem that you have TODAY, and once it's all integrated into your system, you won't feel triggered about dogs anymore, no matter size or breed.
The Emotional Resolution (EmRes ® for short ) process is not another coping mechanism like breathing or imagining. With this technique you connect with the imprinted emotion that's stored in your body and you will remove the triggering origin from the subconscious. By accessing the sensory memories that get activated in you in a certain moment, you can release the stressful reaction and integrate this emotional response pemanently.
Please note, for big emotions like depression, big anxieties and phobias you'll need the help of a professional to not spiral into the trigger. But once you know now how to integrate your ¨smaller emotions¨ you'll notice that your quality of life gets better and better every day and that will make an impact on the way you feel on a daily basis.