About this Event
Scaled Agile Framework® (SAFe®) empowers complex organizations to achieve the benefits of Lean-Agile software and systems development at scale.
SAFe is the world's leading framework for scaling Agile across the enterprise. Used by hundreds of the world's largest organizations, SAFe sustains and drives faster time-to-market, dramatic increases in productivity and quality, and improvement in employee engagement.
SAFe is designed to help businesses continuously and more efficiently deliver value on a regular and predictable schedule. It provides a knowledge base of proven, integrated principles and practices to support enterprise agility.
An important key to success in supporting a Lean-Agile transformation is leadership engagement combined with education and training. Scaled Agile's role-based curriculum helps enterprises unlock business results with SAFe. The SAFe® Learner Subscription is designed to help enterprises link strategy to execution by training business and technical leaders, architects, and developers on Lean-Agile practices.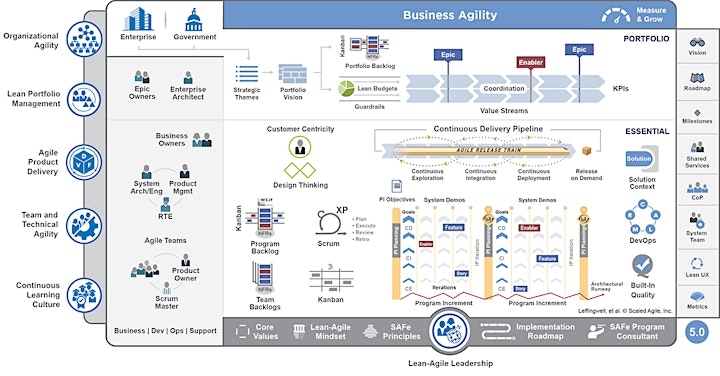 Overview
During this two-day course, attendees gain the knowledge necessary to lead a Lean-Agile enterprise by leveraging the Scaled Agile Framework® (SAFe®) and its underlying principles derived from Lean, systems thinking, Agile development, product development flow, and DevOps.
Participants in the class gain insights into mastering Business Agility in order to thrive in the competitive market. They discuss how to establish team and technical agility and organize and re-organize around the flow of value. They also learn and practice the skills for supporting and executing PI Planning events and coordinating multiple Agile Release Trains (ARTs). Participants in the class explore the importance of adopting a customer-centric mindset and design thinking approach to agile product delivery. Learners also develop an understanding for implementing a Lean Portfolio Management function in their enterprise.
Attending the class prepares individuals to take the exam and become a certified SAFe® Agilist (SA)
Learning Goals
Lead the transformation to Business Agility with SAFe
Become a Lean-Agile Leader
Understand customer needs with Design Thinking
Enable Agile Product Delivery
Implement Lean Portfolio Management
What Attendees Get
Attendee workbook
Preparation and eligibility to take the SAFe® 5 Agilist exam
One year membership to the SAFe Community Platform
Course certificate of completion
Attendees must attend both days of the course in order to be eligible for the exam.
Prerequisites
All are welcome to attend the course, regardless of experience. However, the following prerequisites are highly recommended:
5+ years' experience in software development, testing, business analysis, product, or project management
Experience in Scrum

Exam Details
Completion of this course gives you access to the exam and all related study materials as part of your Learning Plan in the SAFe Community Platform.
For more information about the exam and benefits of becoming a Certified SAFe professional, click the More Exam Details button.
Your Trainer
Sukie Kang
SPCT, Lean-Agile Consultant, Coach, Trainer
Europe based SPCT. Sukie has over 20 years experience across a wide variety of industries in both software and hardware contexts. Starting out as a network administrator, he has worked as a technical architect, in project and programme management and set up the Global PMO for a global organisation. More recently he works with organisations who are undergoing a transformation of ways of working. He has worked with leaders and teams to adopt lean principles and the Agile mindset. Well-travelled, he has lived in 4 European countries and has worked closely with teams on 5 continents. A self-confessed technology geek but is obsessed with customer experience and customer value. As well as his native English, he also speaks a bit of Spanish, Dutch and Punjabi. Sukie also has a MBA from Henley Business School in the UK. In his personal time he takes a keen interest in clean energy, EVs and consumer technology.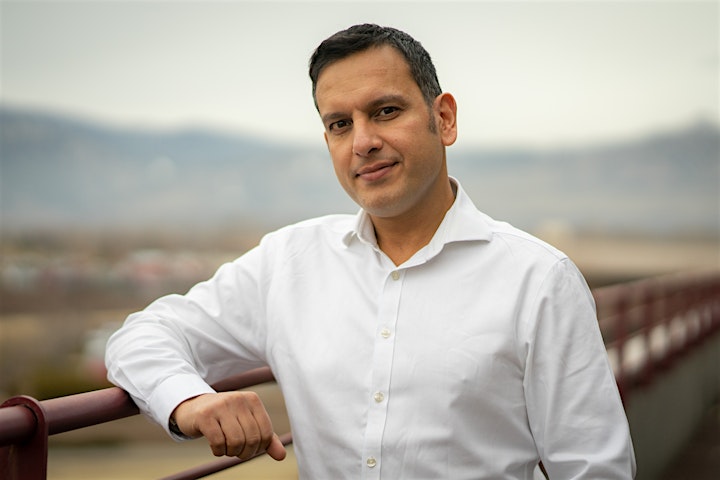 FAQs
Do I need to have experience to attend?
All are welcome to attend the course, regardless of experience. However, the following prerequisites are highly recommended:
5+ years' experience in software development, testing, business analysis, product, or project management
Experience in Scrum
What do I wear?
Wear what makes you feel comfortable while trying not to make others uncomfortable. We will be in jeans and golf shirts, even if in Live Training we will be casual.
Will food be provided?
Yes, coffee breaks and lunch will be provided.
Are there ID or minimum age requirements to enter the event?
The course is open to anyone age 18 and up.
Do I need to bring a computer to the event?
No personal Computers are not necessary. All course material will be provided. Tablet or iPad are wisely recommended to consult the materials.
Is this course in English?
Yes, the course will be delivered in English. If this is a problem for you, we also have portuguese speaking trainers. Let us know if you need help with this issue.
How can I reach the organizer with any questions?
By email: training@agile21.com or by phone +351 215 915 719 / +351 939 588 158
What's the refund policy?
If you have a problem and need to rethink your attendance after your registration, your investment is safe with us! Please contact us or consult our TERMS & CONDITIONS.
Can the course be postponed?
We reserve the right to postpone this course if there are insufficient registrations or if bigger force mandates. If this is the case, you will be notified between 3 and 5 working days before the course start date. In this case, you will be offered an alternative date or other course at your convenience. We will not be responsible for any other costs incurred.
Are there discounts for groups?
Yes, if you have a group (> 5) reach us for special rates.
All trademarks mentioned are the property of their respective owners.