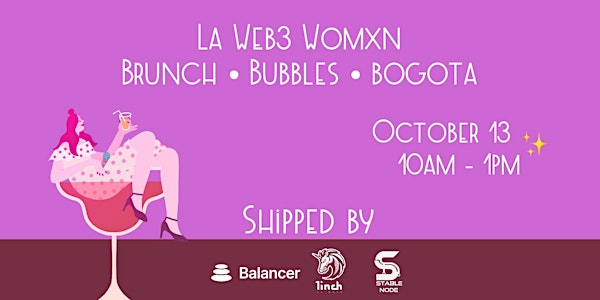 La Womxn in Web3
Devcon goes female!
When and where
Location
Sky 15 Rooftop No. 72-41 Avenida Alberto Lleras Camargo Bogotá, Cundinamarca 110221 Colombia
About this event
🍾 ✨ 🎟 🧇 🥂 🪄 🥐 🚺
Come to our exclusive event to connect with brilliant womxn who have made a name for themselves in web3, learn more about the leading Protocols and DAOs empowering diversity, and mingle with us as we enjoy Colombian Coffee in the country's beautiful capital! ✨
Bring a curious spirit, supportive energy and a willingness to learn more about ways to empower womxn in web3. This event is designed for women and non-binary people, but welcoming all. You have never seen this ratio before! ❤️
About StableNode
StableNode is a research-driven firm dedicated to advancing the understanding and development of the DAO governance landscape. Our team is committed to providing investors and institutions with key insights through a suite of products including DAO analysis, governance research, tailored consulting, and delegation.
About 1inch Network
The 1inch Network unites decentralized protocols whose synergy enables the most lucrative, fastest and protected operations in the DeFi space.
The 1inch Wallet is a multichain mobile platform that provides an easy-to-navigate interface with secure storing, transaction and staking capabilities. This versatile wallet was built from the ground up to streamline interacting with 1inch's features.
About Balancer
Balancer is an automated portfolio manager and liquidity provider turning the concept of an index fund on its head: instead of paying fees to portfolio managers to rebalance your portfolio, you collect fees from traders who rebalance your portfolio by following arbitrage opportunities. Developers leverage Balancer as a permissionless building block to innovate freely and create new treasury management systems. This opens up possibilities for dynamic fees and allows for liquidity bootstrapping pools (LBPs) which are excellent for launching a new token and so much more.