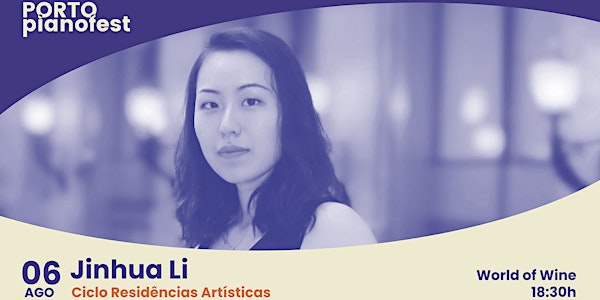 Jinhua Li, pianist—LIVESTREAM from Porto Pianofest
International talent, Jinhua Li, will be performing a program of Chopin, Scarlatti, and Liszt, as her first concert with Porto Pianofest.
Refund Policy
Contact the organizer to request a refund.
Eventbrite's fee is nonrefundable.
About this event
International talent, Jinhua Li, will be performing a program of Chopin, Scarlatti, and Liszt, as her first concert with Porto Pianofest. Originally from China, Jinhua is currently completing doctoral studies at the Université de Montréal in Canada.
This is Porto Pianofest's second year of the prestigious Artists-in-Residency series, aimed at young pianists who come to Porto to prepare for future projects— recitals, competitions, recordings— to work with artist faculty and present their music to PPF's audience.
These are young virtuosi from around the world with brilliant careers ahead of them. Support our Artists-in-Residency program by watching the LIVESTREAM performances!
------
O talento internacional, Jinhua Li, apresentará um programa de Chopin, Scarlatti e Liszt, no seu primeiro concerto no Porto Pianofest. Originário da China, Jinhua está atualmente a concluir os seus estudos de doutoramento na Université de Montréal, no Canadá.
Esta é a segunda edição da prestigiada série de Residências Artísticas do festival direcionadas a jovens pianistas que se deslocam ao Porto na preparação de projectos futuros - recitais, competições e gravações - num trabalho conjunto com o corpo docente do festival e apresentação da sua música ao público do Porto Pianofest.
São jovens virtuosos com brilhantes carreiras pela frente. Venha conhecer e apoiar os participantes das Residências Artísticas!
PROGRAM
Domenico Scarlatti (1685-1757)
Sonata K. 492 em Ré maior
Sonata K. 141 in Ré menor
Sonata K. 466 in Fá menor
Sonata K. 46 in Mi maior
‍
Frédéric Chopin (1810-1849)
Cuatro Mazurkas Op.24
No. 1 em Sol menor, Lento
No. 2 em Dó maior, Allegro non troppo
No. 3 em Lá bemol maior, Moderato con anima
No. 4 em Si bemol menor, Moderato
Franz Liszt (1811-1886)
Rapsódia Espanhola
BIO
The Chinese-born pianist, Jinhua Li, has shown her insights in music making since she was little. She earned her BM from Oberlin Conservatory of Music in 2014, where she studied with Monique Duphil, MM from Shepherd School of Music at Rice University in 2016, where she studied with Brian Connelly. Currently, Ms. Li is completing her Doctorat en Interprétation - piano classique under the tutelage of Jean Saulnier in l'Université de Montréal.
Recently have won the third prize of the Concerto Competition in Université de Montréal, Ms. Li has her debut with Orchestre de l'Université de Montréal (OUM) in October, 2022, featuring Chopin Concerto in e Minor. Other festivals within the recent years include Gijón International Piano Festival (Spain), Canyamel Piano Festival (Spain) and Fontainebleau Festival (France). In 2018, as the First Prize winner of the Golden Classical Music Awards International Music Competition, Ms. Li has made her debut performance in Weill Recital Hall at Carnegie Hall.
Ms. Li has been the recipient of scholarships including International Grant and
Conservatory Dean Scholarships (Oberlin 2010-2014), Mary S. Dix Prize, Dr. and Mrs. Jack Gills Scholarship (Rice 2014-2016), Sviatoslav Richter Fund for Music Outreach (Rice 2015), as well as André Dubois Scholarship (UdeM 2018), Fonds de bourses en piano Denise-Angers (UdeM 2019), Bourse d'études supérieures de la Faculté de musique (UdeM 2020), La Bourse de Fonds de bourses Paul-Marcel et Verna-Marie Gélinas en piano (UdeM 2021).
Since 2012, Ms. Li has been serving as teaching assistance. Upon her graduation from Oberlin, Ms. Li was awarded the annual Carol Pedagogy Prize. She was appointed as Vice President of World Piano Teachers Association (WPTA) - Thailand for the year 2019-2020.