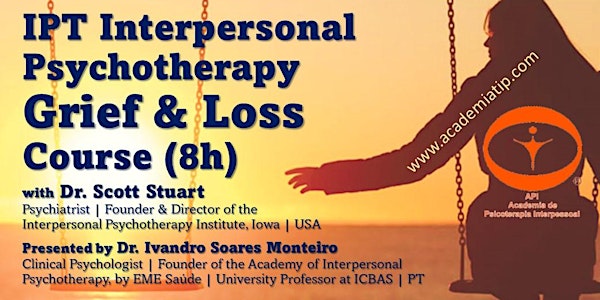 IPT Interpersonal Psychotherapy for Grief and Loss Course |ONLINE LIVE | 8h
Refund policy
Refunds up to 30 days before event
In English language| 8h course, organized in 2 days | 8-9 July| 2:30pm - 6:30pm | With Dr Scott Stuart |Presented by Dr. Ivandro S. Monteiro
About this event
Grief is chosen as the IPT focus area when psychological distress is associated with the death of a person close to someone we are emotionally attached.
Grief can also be conceptualized more broadly as other losses in our lives, such as loss of a relationship, loss of physical health, infertility, anticipatory grief of another's or of one's own death.
The goal of grief as the focus area is to help psychotherapists, such as psychologists and psychiatrist, among other health professionals, to work through the phases of loss and to help them come to a resolution of your grief.
In this course, we are going to work through grief, which means exploring and understanding the grief reaction, but also communicating that experience to others and developing a social support network, with validated scientific strategies, in order for mental health professionals be more efficient with patients during the administration of the Interpersonal Psychotherapy model.
VENUE | ONLINE EVENT
Friday & Saturday, 8th and 9th July 2022
TIMES
CHICAGO | from 8h30pm to 12h30 pm
NEW YORK | from 9h30pm to 13h30 pm
BRASÍLIA | from 10h30pm to 14h30 pm
LONDON / LISBON | from 2h30pm to 6h30 pm
PARIS | from 3h30pm to 7h30 pm
NEW DEHLI | from 7pm to 11pm
TÓQUIO | from 10h30pm to 2h30 am
SYDNEY | from 11h30pm to 3h30 am
If needed, check your time zone here - https://24timezones.com/
INSTRUCTOR | Dr. Scott Stuart
Dr. Stuart is a psychiatrist and a Professor Emeritus of Psychiatry and Psychology in the Departments of Psychiatry, Psychology, Obstetrics and Gynecology at the University of Iowa (USA) as well as a Professor Emeritus in the University of Southern California Department of Psychiatry. He has been active in clinical work, education and research in the areas of Interpersonal Psychotherapy and perinatal psychiatry during the last two decades.
Dr. Stuart completed his medical training at the University of Kansas, followed by internship at the University of Pittsburgh. He has received several teaching awards, including the John Clancy Teacher of the Year Award.
He is the Director of the Interpersonal Psychotherapy Institute. He has also authored a number of articles on IPT, and is the co-author of Interpersonal Psychotherapy: A Clinician's Guide (2nd ed), as well as upcoming books on IPT for adolescents and for groups. He has trained IPT Clinicians and Supervisors in over 30 countries, and has been doing teaching, research and clinical work in IPT for nearly 3 decades (check support section).
PRESENTER | Dr. Ivandro Soares Monteiro
Clinical Psychologist since 2000 | Psychotherapist (level E) | Founder of the Academia de Psicoterapia Interpessoal by EME Saúde, since 2011 | University Professor at ICBAS - School of Medicine and Biomedical Sciences Abel Salazar, since 2010 | M.Sc. Cognitive Sciences & PhD Clinical Psychology (2010, Univ Minho, PT) | Author of books & articles | Certified specialist in "Clinical Psychology", "Organizational Psychology" and advanced specialist in "Psychotherapy", by the Portuguese Order of Psychologists | Porto, Portugal
ORGANIZATION
API - Academia de Psicoterapia Interpessoal by EME Saúde | Porto, Portugal
SUPPORT
Interpersonal Psychotherapy Institute | Iowa | USA - https://iptinstitute.com
EME Saúde - Medical & Mental Health Clinic | Behavioural Consultancy | Events - https://www.emesaude.pt
MEDIA PARTNER
BOM DIA | The first online newspaper for Portuguese expats - https://bomdia.eu/