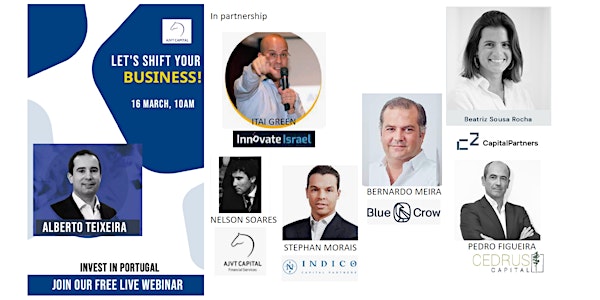 Invest in Portugal Webinar
The Portuguese ecosystem is still young, but it is quickly growing. In this webinar, you will learn why you should invest in Portugal.
When and where
Date and time
Thursday, March 16 · 1 - 2am PDT
About this event
The Portuguese entrepreneurial ecosystem is still young, but it is quickly growing, and the country is a rising star which attracts talent and investors from around the world.
High quality of life, low cost of labour, and the sun and sea are only a few reasons why talent and capital are moving into Portugal.
We invite you to an hour in which Portugal, its ecosystem, supporting catalysts and various incentives will be presented.
Speakers:
ALBERTO TEIXEIRA - AJVT CAPITAL
He is currently CEO of PATRIS SGFTC. Director of Font Salem (Grupo Damm), Amorim Turismo, Iberpartners and FAL. He previously worked in Haitong Bank and Vodafone. He has a degree in Management from Universidade Católica and a postgraduate degree from ISEG (where he won the Microsoft award). He was National Director of ANJE and Vice President of CIP.
https://www.linkedin.com/in/alberto-jorge-teixeira-136434/
NELSON SOARES - AJVT CAPITAL
He worked in the areas of Corporate Banking and was Executive Director of different companies in the Energy and Industrial areas. He was also founding partner of 3SH Investe and SSD Capital, as well as taught subjects in higher education in the areas of economics and finance. Trainer of the Order of CC, in the area of corporate finance. He holds a degree in Economics from the University of Porto and an MBA from EAE Barcelona.
https://www.linkedin.com/in/nelson-soares-0246a48/
STEPHAN MORAIS - INDICO CAPITAL
Stephan Morais is a Portuguese British investor.
Morais is an engineer by training, having graduated from Instituto Superior Técnico in 1996 with a Civil Engineering degree. Departing from his field of study, he completed an MBA focusing in Private Equity and Venture Capital at Harvard Business School and went on to pursue a career in management, consulting, banking and investment.
In 2019, he co-founded Indico Capital Partners, Portugal's leading venture capital firm, of which he is the Managing General Partner. He is the President of the Harvard Club of Portugal.
BERNARDO MEIRA - BLUECROW CAPITAL
https://www.linkedin.com/in/bernardoempismeira/?originalSubdomain=pt
BEATRIZ SOUSA ROCHA - C2 CAPITAL
https://www.linkedin.com/in/beatrizsrocha/details/education/
PEDRO APPLETON FIGUEIRA - CEDRUS CAPITALhttps://www.linkedin.com/in/pedro-appleton-figueira-4076832/
The webinar will be recorded. By participating, you give your premission for the webinar to be recorded and publushed.
Agenda
10:00 AM - 10:30 AM
Alberto Teixeira & Nelson Soares - AVJT Capital
10:30 AM - 10:35 AM
Beatriz Sousa Rocha - C2 Capital Partners
10:35 AM - 10:40 AM
Pedro Figueira - Cedrus
10:40 AM - 10:45 AM
Bernado Meira - Bluecrow
10:45 AM - 10:50 AM
Stephen Morais - Indico