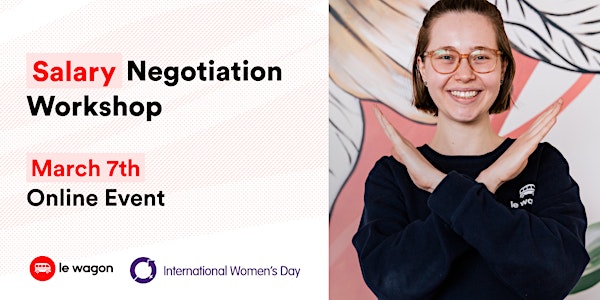 International Women's Day | Land a job in tech & negotiate your salary!
Get the right interviewing skills to land a job more efficiently!
About this event
⚠️ Access to this workshop by signing up on Livestorm:
You probably know that women are still under-represented in tech roles. At Le Wagon, we are determined to empower women in tech and do our bit for more gender parity 💪
To celebrate International Women's Day on March 8th, we've decided to organise free online events during the week, kicking off with this workshop about how to find a job in tech! 🚀
Having technical skills will give you the opportunity to apply for roles in companies you love but having the right interviewing skills will lead you to land a job more efficiently!
About this webinar
This workshop will be a one hour presentation followed by a 30 min Q&A, so make sure to have your questions ready! We will have a look at:
✨ Job search tips to apply to relevant positions according to the career path you have chosen
✨ Overview of the interviewing process to know what to expect in every stage
✨ How to answer to technical interview questions and how to approach challenges
✨ Salary negotiation
About Le Wagon
Le Wagon emerged in 2014 as one of the first tech bootcamps in France, offering web development and data science programs. Now, it has grown to a robust global community of tech talents with 43 Le Wagon campuses in Amsterdam, Berlin, Lisbon, London, Melbourne, Mexico, Montreal, Singapore, São Paulo, Paris, Tel Aviv, and other cities worldwide.
With this expansion, Le Wagon has helped over 13,000 developers, data scientists, designers, and entrepreneurs start their new careers in tech. Eight years on, the school continues to inspire tech aspirants to find their path in the industry.
Next bootcamps
Web Development → Apr 11 - June 10 (full-time) // Apr 2 - Oct 6 (part-time)
Data Science → Apr 11 - June 10 (full-time) // June 18 - Dec 12 (part-time)
Find us on