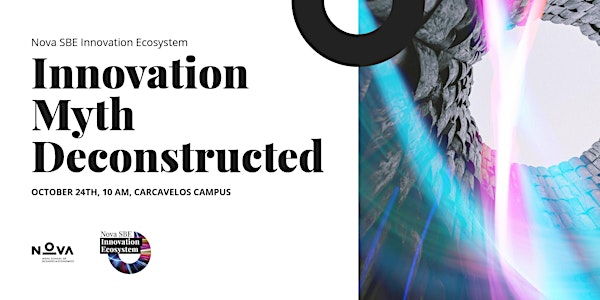 Innovation Myth Deconstructed
Nova SBE Innovation Ecosystem is pleased to invite you to TIE 2022 - "Innovation Myth Deconstructed" Talk
When and where
Location
Nova School of Business and Economics 1 Rua da Holanda 2775-405 Carcavelos Portugal
About this event
Every time we learn and act together, we make a tie. But here, TIE is for Transformation, Innovation, Education: the Nova School of Business and Economics Innovation Ecosystem welcomes you to take part in our TIE 2022 programme, a set of sessions for us to exchange and build around these three fundamental pillars for a better and sustainable economic development model.
Each activity has a specific focus: Knowledge transferring and intellectual property, Cybersecurity, Education and the Metaverse, Innovation Myths, Creative Industries, Business Analytics and more.
We are pleased to invite you to the first of a cycle of three talks, within the TIE 2022 programme:
MONDAY 24-10 - 10:00 >> 12:00 | @ Nova SBE Carcavelos Campus Main Gallery - 1st Floor
Innovation Myth Deconstructed
A conversation based on an innovation myth related to innovation practices and processes. In these session we will demystify innovation through an informal dialogue between innovation practitioners, that aim to deconstruct it, in a fun and creative way.
Free entrance: your thoughts are the actual ticket!
Speakers TBC
Looking forward to meeting you there!