The 2nd edition of the Better Governance conference will address Sustainability Pillars and will feature Werner Hoyer as a keynote speaker.
About this event

A Nova SBE tomou a decisão de suspender todos os eventos internos e externos agendados para os meses de março e abril. Este evento será adiado para o final de maio, em data a confirmar.
Esta decisão tem em conta o bem-estar e saúde não só dos alunos, staff e faculty da Nova SBE, mas também da comunidade e dos nossos parceiros que recebemos no Campus.
Saiba mais aqui.
***
Chairman: Duarte Pitta Ferraz
Keynote Speaker: Werner Hoyer
Nova SBE Executive Education and Deloitte would like to invite you to the conference Better Governance: Sustainability Pillars. This year´s edition will debate the prominence of sustainability pillars within organizations´ corporate governance approaches and it´s intended for both executive and non-executive board members but also for governance, sustainability and supervision directors.
Werner Hoyer, European Investment Bank's President, will address the challenges of EIB as the European Union's Climate Bank, while Daniel Traça, Nova SBE's Dean, will share his views about the challenges of the new paradigm for the business world.
The panels on ESG (Environment, Social, Governance) will discuss the emerging trends, perspectives and paradigms, including the climate impact, future of corporations, social and financial sustainability, while the panel on Family Business Sustainability will consider the challenges and check-balance of the family governance framework, succession, legal aspects, independent boards process to ensure sustainability.
This conference will be held at Nova SBE's Carcavelos Campus within the scope of its continued education and business transformation regarding corporate governance, as we believe that more ethical, transparent and diverse boards and companies will help us build the sustainable future we envision.
Deloitte will also take this opportunity to launch the 33rd edition of the Investor Relations & Governance Awards, an initiative that recognizes organizations and individuals that have contributed to making the market more transparent, socially responsible and useful to the Portuguese economy and society.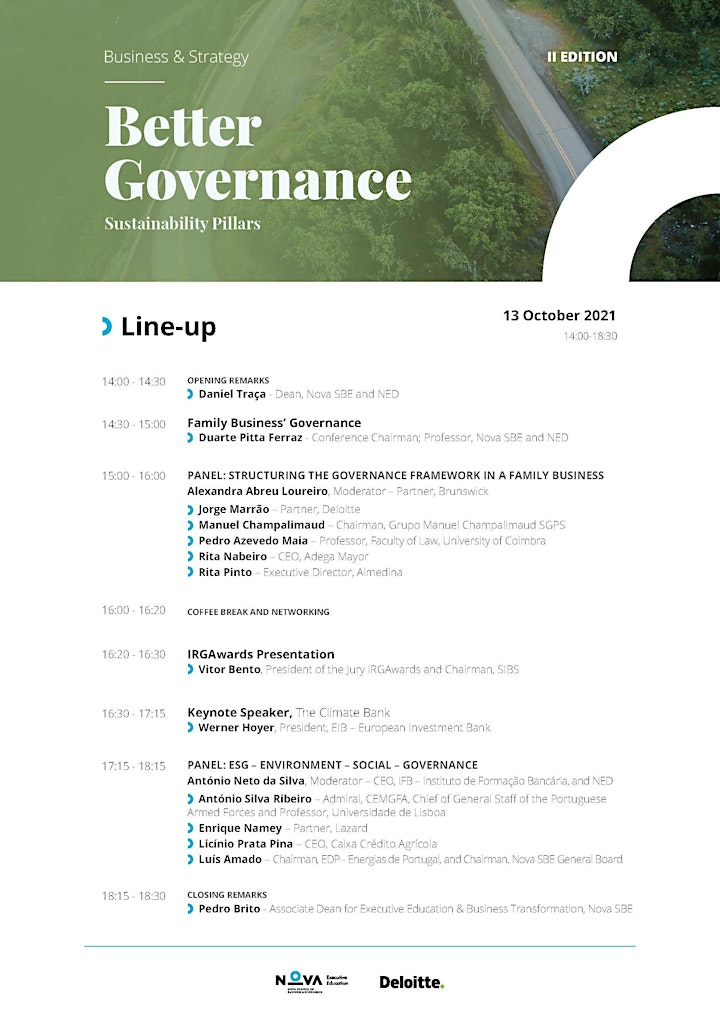 Organizer of II Better Governance: Sustainability Pillars
We are a community dedicated to helping to foster talent in each individual, and we are committed to building a future together, for a more sustainable and competitive economy.
That's why, besides our commitment to building a more sustainable and competitive economy, our approach relays on continuously contributing to the personal and professional development of executives.
Our offer includes both open enrollment programs and customized solutions to address organization's pain points, from crash courses to post-graduate diplomas, and international learning journeys. 
Together, we are building a brighter future: close to your challenges, goals, and successes, and far beyond the horizon of traditional classrooms.