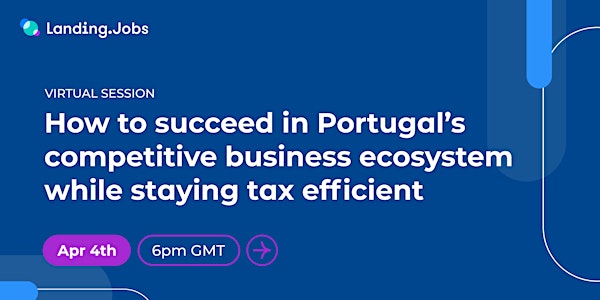 How to succeed in Portugal's competitive business ecosystem
How to succeed in Portugal's competitive business ecosystem while staying tax efficient
Date and time
Starts on Tue, 4 Apr 2023 10:00 PDT
About this event
Portugal's business ecosystem is becoming increasingly competitive, with new businesses and entrepreneurs entering the market every day. If you're looking to start a business or grow an existing one in Portugal, it's essential to be innovative, adaptable, and well-connected.
Also, to succeed in this environment it's important to understand the country's tax system and how to stay tax-efficient. The good news is that the Portuguese government offers generous tax benefits to encourage foreign investment and business growth.
In this webinar, we'll explore several government benefits and the key strategies for succeeding in Portugal's competitive business ecosystem. You'll learn about the latest trends and technologies, as well as best practices for building a strong network, hiring local talent, and taking advantage of government incentives.
So, whether you're a new business owner or an experienced entrepreneur, this webinar is a must-attend for anyone looking to thrive in the Portuguese competitive business landscape and learn all the hacks about staying tax-efficient.
By joining us, you'll have the opportunity to ask any questions about this topic and network with other attendees. Secure your spot now!
About the organiser
Landing.Jobs is a tech recruitment marketplace dedicated to bringing companies and tech talent together by matching their strengths and ambitions.