Description
Polish your programming skills with Scala: Bring your laptop and code along Nigel Warren - expert in Scala, Java, Software Engineering and Distributed Systems.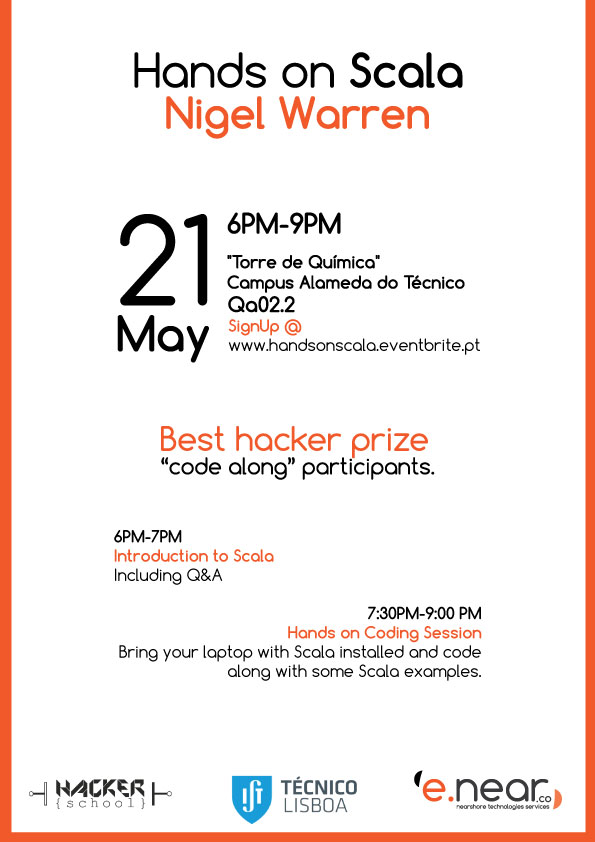 Program:

Introduction to Scala - Aimed at Tech managers, Scala academics, noise developers and general interest.

Micro Service Scala Architectures - An introduction to Micro Services with a Scala Slant

Q&A and coffee break

Training: Hands on Coding Session.

From Functional and Object Oriented Programming to Scala;

Play Framework in Scala: web applications made simple.
Signing up:
- Register at this eventbrite event.
- To validate your vacancy, you need to pay 10€ of gage. - except if you're invited by E.Near, or work in its group.
These will be refunded by your attendance at the workshop.
You can pay this gage:
- in person, on Tuesday 6th, Wednesday 7th and Thursday 8th May at the HackerSchool's stand inside the tent at the JobShop, at Alameda, Técnico. From 9h30 to 18h00.
- In case of impossibility to pay that way, you can pay transferring to the NIB: 0035 0373 0001 0397 230 78 (Name: Nome: NEIIST - Núcleo Estudantil de Informática do Instituto Superior Técnico) and in that case, you must send us the proof of payment: hackerschool@tecnico.ulisboa.pt
About Nigel Warren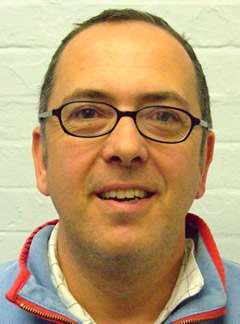 Nigel was formerly Chief Architect (CTO) at the Sporting Index Group of Companies and the Architect and project lead on Fly Object Space. He is a Visiting Research Fellow at Brunel University where his main research interests are long running distributed systems and component lifetimes and inter-dependencies
Previously Nigel was the founder and CTO of IntaMission Ltd. and Chief Architect for Europe at Hitachi Software.
He is the co-author of Java in Practice and JavaSpaces in Practice in the Addison Wesley Java series and is the lead author of two patents in the field of long running distributed software systems.
About E.Near
E.Near is an innovative Portuguese company establish to provide cutting edge Nearshore Technology Solutions for international companies from our offices in Portugal. We assemble teams of software engineers to provide market leading solutions for our partner clients. We have a number of internationally renowned technical partners with whom we will be hosting a series of events such as this seminar.
About Underscore
Underscore Consulting is a provider of professional services relating to the Scala programming language. Centered around London, UK, we provide a full range of services including consulting on architecture and design, training for all levels of Scala developers, and a complete software development service.
Underscore was formed to meet a growing demand for Scala professional services, and provide the level of service that large organisations need. Our combined skills give Underscore a depth and breadth of technical expertise in the Scala ecosystem that is unmatched by any other consulting organisation.
Organized by: