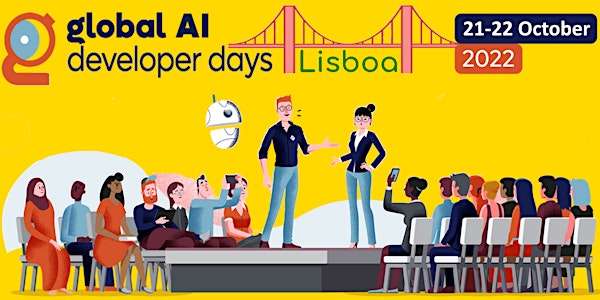 Global AI Developer Days 2022 Lisboa
Global AI Dev Days 2022 Lisboa is a FREE event happening in person on the 21st (free workshop AI-900) and 22nd (sessions) of october!
When and where
Location
ISEG - Lisbon School of Economics & Management Rua do Quelhas, nº6 (Anfiteatro 4, edifício das Francesinhas, entrada pela Rua das Francesinhas) 1200-781 Lisboa Portugal
About this event
You can join us physically at ISEG – Lisbon School of Economics & Management (University of Lisbon), one of the oldest schools in Portugal (tracing back to 1759), at the heart of traditional Lisbon neighbourhoods, and just next to the Parliament (don't worry, politicians won't steal your wallet - not on a saturday, anyway).
You can also join online, but you only get free food 🍕, prizes 🎁 and other surprises 🙀 if you attend in-person…
The agenda, full speaker details and much more is available using our mobile friendly progressive app:
Also, have a look at the official event page.
Important notes:
👻This event takes place one week before other global locations. Overlapping there's the Web Summit in Lisbon (expected 100k people) and hotel prices may reach 500€/night, so we'll host it one week before out of respect for speakers and attendees;
♿ Our venue is fully accessible (wheel chair friendly, easily navigable, free private parking, etc.), and we are here to help with anything you need, just ask :)
☣️ Bugs and features happen, and while we expect no epidemic restrictions, we reserve the possibility to implement COVID, monkeypox or flat-earther measures, and worst case, we may convert the event to online only;
⚠️ We are very picky about privacy. You must agree to our GDPR (RGPD) at 🔗https://ITProPortugal.PT/GDPR to join the event, either in person or remotely.
This event is organised by the following non-profit technical communities:
This event is kindly sponsored by:
You are welcome to submit sessions to present in the event. If you've never presented a session before we can help you with mentoring (please select the respective options in the form).
Any questions? Send carrier pigeon to 📨"Administrator" + "@" + "ITProPortugal" + "." + "PT"