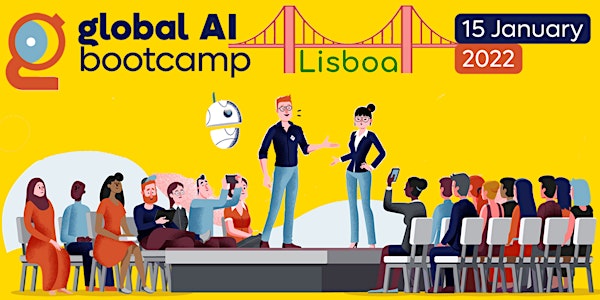 Global AI Bootcamp 2022 Lisboa
Global AI Bootcamp 2022 Lisboa is happening both in person and remotely on the 15th of january!
By Data Community Portugal
When and where
Date and time
Sat, 15 Jan 2022 08:45 - 17:00 WET
Location
ISEG - Lisbon School of Economics & Management Rua do Quelhas, nº6 (edifício das Francesinhas, entrada pela Rua das Francesinhas) 1200-781 Lisboa Portugal
About this event
You can join us physically at ISEG – Lisbon School of Economics & Management (University of Lisbon), one of the oldest schools in Portugal (tracing back to 1759), at the heart of traditional Lisbon neighbourhoods, and just next to the Parliament (don't worry, politicians won't steal your wallet - not on a saturday, anyway).
You can also join online, but you only get free food 🍕 if you attend in person…
Have a look at the official event page.
The agenda, full speaker details and much more is available using our mobile friendly progressive app.
You must agree to the following rules to attend the event:
⚠️REQUIRED for "in person" - COVID measures will be enforced, including: Mandatory full COVID vaccination; AND ALSO Mandatory EU Digital Testing Certificate (test must be taken less than 24 hours before event start); AND ALSO Matching ID card or passport; AND ALSO Wearing masks is required at all times;
Legal disclaimer: If the organisation team detects fraudulent COVID documentation, law enforcement authorities will be notified. Anyone found not respecting COVID rules (namely proper usage of masks, etc.) will be asked to leave the venue;
If you selected "in person" and you can't attend in person or you are unable to due to COVID restrictions, you can always attend remotely. In that case, please cancel the "in person" ticket as soon as possible, to make your seat available for someone else, and sign up for a "remote" ticket;
⚠️ We are very picky about privacy. You must agree to our GDPR (RGPD) to join the event, either in person or remotely.
This event is organised by the following non-profit technical communities:
This event is kindly sponsored by:
You are welcome to submit sessions to present in the event. If you've never presented a session before we can help you with mentoring (please select the respective options in the form).
Any questions? Send carrier pigeon to 📨"Administrator" + "@" + "ITProPortugal" + "." + "PT"