Glintt Sessions | Product Discussions
About this event
Bem-vindos às Glintt Sessions – Product Discussions!
Nestes encontros mensais vamos discutir temas relevantes sobre o estado da Saúde em Portugal e vamos contar com a participação de vários players deste setor. Vamos abordar as soluções e produtos desenvolvidos pela Glintt e a sua implementação e como podemos evoluir em cooperação com os nossos clientes, parceiros e outros responsáveis do mercado.
Vamos contar com o apoio de elementos da sociedade civil, clientes e representantes de stakeholders, que nos vão permitir aprofundar cada tema de uma forma mais holística, ou seja, tendo em conta cada player do ecossistema da saúde. Assim, dividindo o mesmo painel, vamos ter membros da Academia (Universidades e Polos Tecnológicos), da Administração Pública, da Indústria e de especialistas independentes.
As Glintt Sessions são itinerantes e abertas à sociedade civil. Vamos procurar levar as nossas sessões para as várias regiões de Portugal, para que se transformem numa referência sobre a discussão do que de melhor se faz em saúde, de norte a sul do país!
Juntos vamos contribuir ativamente para o futuro da Saúde digital em Portugal!
PORTO | 15 DEZEMBRO | 09h30
Junte-se a nós. A primeira sessão é já dia 15 de dezembro. Vamos estar no Porto e vamos falar sobre a emergência de soluções na área da interoperabilidade de sistemas.
Já conhece o Viewer?
Uma plataforma inovadora, centrada na agregação e na análise de dados, que visa maximizar o desempenho e simplificar a vida de todos os envolvidos no ambiente hospitalar, agregando e vinculando as informações que estão dispersas em múltiplas plataformas.
Sessão 01 | 15.12.2021
Challenges in(teroperability) Digital Healthcare
Os desafios da articulação entre sistemas de informação nas instituições e o papel da interoperabilidade como enabler de cooperação.
09:30 | Welcome Breakfast
10:00 | Abertura e Boas-vindas | Filipa Fixe Santos, Administradora Executiva da Glintt
10:15 | Painel de debate
António Martins, Presidente HL7 Portugal, Diretor de Serviços da Sectra
Ricardo Cruz Correia, Professor FMUP/MEDCIDS, Fundador da HealthySystems
Rui Gomes, Diretor de Sistemas de Informação do Centro Hospitalar e Universitário de Coimbra
Victor Costa, Diretor do Serviço de Gestão de Informação do Centro Hospitalar de Trás os Montes e Alto Douro.
11:15 | "The Focus that Health needs: a Different Point of View(er)"
Paulo Freitas, Diretor do Serviço de Medicina Interna do Hospital Fernando da Fonseca e CMO do Viewer e Cristiano Marques Healthcare Solutions Manager
11:35 | Conclusões e encerramento | João Figueiredo, Diretor do Mercado de Healthcare da Glintt
11:40 | Coffee-break e Networking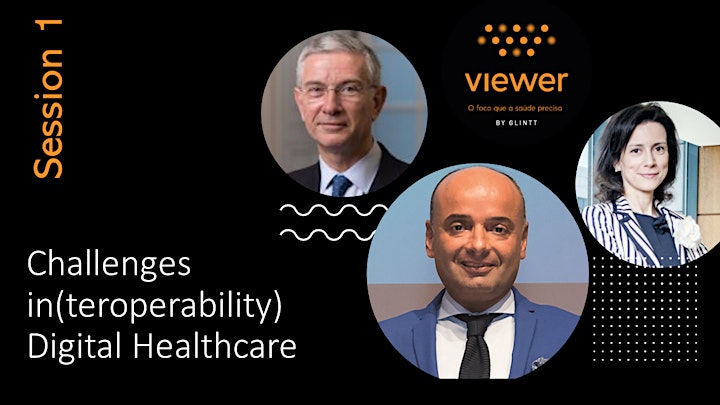 Organizer of Glintt Sessions | Product Discussions
With a market presence and a know-how of more than 20 years, Glintt is a well-known company in the Iberian Peninsula in Consulting and Technological Services. Through innovation, Glintt aims to help transform organizations and improve people's lives. Iberian leader in the Health market, Glintt develops, implements and supports a diversified set of products for Hospitals, Clinics and Pharmacies. Its solutions are used in more than 250 Hospitals, 500 Clinics and 14.000 Pharmacies in Portugal, Spain, Brazil and Angola.