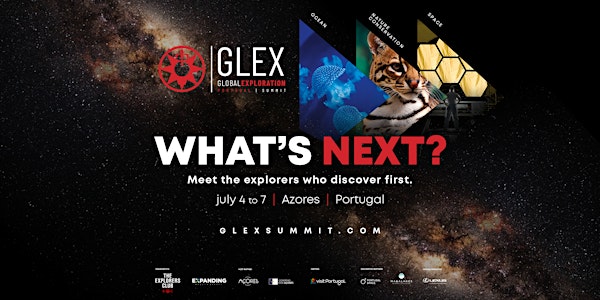 GLEX Summit - What's Next? Meet the explorers who discover first.
Location
Teatro Micaelense
s/n Rua de São João
9500-106 Ponta Delgada
Portugal
Refund policy
Contact the organizer to request a refund.
Eventbrite's fee is nonrefundable.
What's next? 4th to 7th of July in the Azores. Join us and "Meet the Explorers who discover first".
About this event
The Global Exploration Summit (GLEX Summit) brings together the world's leading explorers in a pioneering gathering where they will share cutting-edge technology and innovations to propel us to the next frontier in the future of exploration.
GLEX Summit will take place in the unique sceneries of Teatro Micaelense – Ponta Delgada - Azores, with the motto "WHAT'S NEXT?". The summit will present and debate the impact of the latest discoveries, reveal the future expeditions that are transforming the fate of our species.
The Explorers Club and Expanding World continue to sail to new horizons with the third summit destined to bring the world together in in search of the unexplored, maintaining the commitment signed in the first edition with The Lisbon Declaration, where all participants commit to an effort to inspire the world to protect our planet, reconnect with nature and preserve its most pristine habitats, and accelerate the sharing of scientific knowledge.
Themes for GLEX Summit 2022 - Azores: Oceans (Deap oceans, Whales and sharks, Marine life) Earth (biodiversity and conservation, Wildlife, North Pole exploration), Space (Venus exploration, extraterrestrial volcanoes) and EC 50 - GENERATION (exploration, the DNA manisfest, wildlife, medic on the Moon)
The first confirmed speakers for GLEX Summit 2022:
James B. Garvin
Rosaly Lopes
Nicole Stott
Austin Gallagher
Beverly and Dereck Jouberts
Glen Gowers and Oliver Vince
Sian Proctor
Børge Ousland
Onkuri Majumdar
Ben Lamm
Eriona Hysolli
Joshua Powell
John Mack
Nathalie Cabrol
Emanuel Gonçalves
...
...
...
WHAT'S NEXT? Full program
Join us July 4 to 7, Teatro Micaelense, Ponta Delgada, Açores.
Early Bird ticket ends june 18th. See more in glexsummit.com