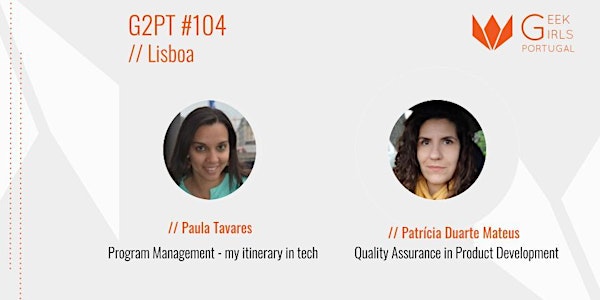 G2PT104 - 104º Geek Girls Portugal - Lisboa
Join us in our upcoming in-person meetup in Lisbon at Cloudflare.
When and where
Location
Cloudflare (Coworking Spaces) Praça Marquês de Pombal 14 7th floor 1250-162 Lisboa Portugal
About this event
Our upcoming in-person meetup will take place at Cloudflare in Lisbon!
Join us to hear Paula Tavares, Engineering Manager at Cloudflare, to learn about Paula's career in program management and how she has built her journey of more than 20 years in tech.
Patrícia Duarte Mateus will talk about the importance of quality assurance during the process of product development and shed light on the various inputs during this stage.
Free registration, limited places.
Agenda
18:00 – Welcome Drinks & Snacks
18:20 - Program Management - my itinerary in tech | Paula Tavares
18:40 - Quality Assurance in Product Development | Patrícia Duarte Mateus
19:00 - Meet Cloudflare | Isabel João Rodrigues
19:10 – Q&A / Networking
19:30 - End
About Geek Girls Portugal...
Founded in 2010, Geek Girls Portugal is the first Portuguese community and network dedicated to inspiring and empowering women to excel in technology careers.
Its mission is focused on 1) the involvement, inspiration and empowerment of women, through meetings and workshops, 2) raising awareness about careers in technology for younger women through sessions in schools, and 3) mentoring and supporting professional careers of women in technology.
A nova missão foca-se no envolvimento, inspiração e capacitação de mulheres, através de encontros e workshops, sessões de sensibilização em escolas para inspirar jovens mulheres, e mentoria para apoiar o desenvolvimento e progressão profissional de mulheres na área tecnológica.
Website | Facebook | Twitter | Instagram | Linkedin | hashtag: #G2PT104
Apoio: