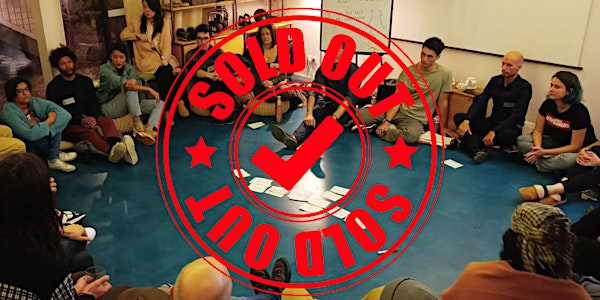 [FULL] Meaningful Conversation meets CS - Valentine's special theme: LOVE
Enjoy an evening of Meaningful Conversation without the usual small talk while improving your Communication Skills
Date and time
Wednesday, February 15 · 7:30 - 10:30pm WET
Location
Selina Secret Garden & Cowork nº1 Beco Carrasco 1200-096 Lisboa Portugal
About this event
[EVENT IS FULL - JOIN OUR MEETUP GROUP TO GET INFORMED ON EVENTS SOONER]
[Join our Communication Tribe 🎤 on WhatsApp for bi-weekly communication challenges]
There is no greater skill to acquire than speaking to, influencing and having impact on people to promote yourself, your business or your cause. Discover how to master your communication skills with a friendly approach as you meet like-minded people from around the world and enjoy an evening of meaningful conversation without the usual small talk. From the beginning, each participant will have the opportunity to practice their communication skills.
The main communication skill we propose to focus on this session will be EMOTIONAL COMMUNICATION. And it's also a great opportunity for everyone to practice their Active Listening skill, since it's only one person speaking at any giving moment.
Theme for discussion as Valentine's Day special - LOVE
Location: Selina's Secret Garden - Wellness Room
Hard start at 8:00 p.m., please be on time, so we don't have to explain the rules every time someone new joins
Structure of the event:
Starting from 7:30 p.m. we meet at the Selina's restaurant to mingle and chat
At 8 p.m. we move to Selina's Wellness Room, people can take along their drinks, snacks and food from the restaurant
Chris and I will give some suggestions, tips and exercises on how to practice proposed communication skill during the session
Each person will propose and present 2 topics of discussion within the main theme - RISK
We will vote and start the discussions from most voted to least voted. We'll try to get as many proposed topics as possible
The minimum time for discussion of each topic is 5 minutes and the maximum time is around 20 minutes. We'll vote on whether to continue with that topic or move on to the next one
Hard finish at 10.00 p.m.
We move back to restaurant to mingle and chat
Meet Your Hosts:
Yev has a long experience in event organization. He is an improvisational theater facilitator, a Master of Ceremonies and an Open-mic host. He is well known in Lisbon's community of hosts and coaches due to his enormous enthusiasm, drive and positivity.
Christian is the founder of Peak Communication, which he established in Hong Kong in 2012. He has developed a Public Speaking program for entrepreneurs and trained over 200 executives and college students in Asia and Europe in various industries such as fintech, tech and otherwise.
About the sponsor:
Peak Communication is about giving Voice to your Vision, in any format, in front of small or large audiences, in the Media or at Conferences, with Clarity and Simplicity.
See you there :)