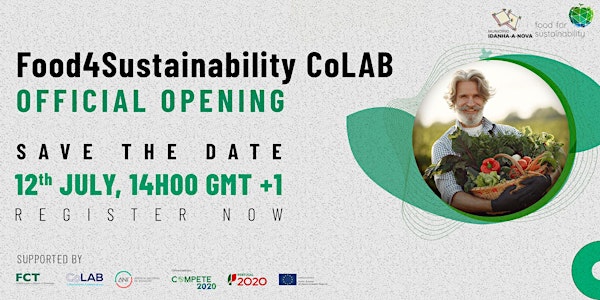 Food4Sustainability CoLAB Official Opening
The Food4Sustainability CoLAB opens its (out)doors next Monday, 12h July , 14h00 GMT +1, this event will be live streamed from Idanha-a-Nova
About this event
The Food4Sustainability Collaborative Laboratory (CoLAB) aims to respond to the challenge of densification of the national territory in terms of activities based on knowledge, through a growing consolidation of forms of collaboration between institutions of science, technology and higher education, and the economic and social fabric.
AGENDA 12h July
2:00 pm Welcome
Engineer Armindo Jacinto -Mayor of Idanha-a-Nova
Signing of CMIN and Food4Sustainability protocol
2:10 pm Keynote Speaker
Professor Ana Abrunhosa -Ministry of Territorial Cohesion
Professor Isabel Ferreira - Secretary of State for the Enhancement of the Interior
2:20 pm Guest Speakers (by videoconference)
Mark Bucking -Fraunhofer IME
Kees de Gooijer -TKI Agri & Food
2:40 pm Presentation of Food4Sustainability and Associates
Management and Associates
3:00 pm Presentation of the R&I and projects agenda
Food4Sustainability Team
3:20 pm Closing
Teacher. Doctor Manuel Heitor - Minister of Science, Technology and Higher Education
Once you submit your registration you will receive the links and schedule for the event.
Don't miss out on the opportunity to get involved, to meet, and know more about Food4Sustainability - CoLab
Are you ready to leap?
We look forward to seeing you - online - on the 12th of July!