Location
Colégio dos Jesuítas do Funchal
Rua dos Ferreiros Estrada
9000-082 Funchal
Portugal
International meeting to discuss trends of the FIWARE framework.// Encontro internacional para disseminar as tendências da framework FIWARE.
About this event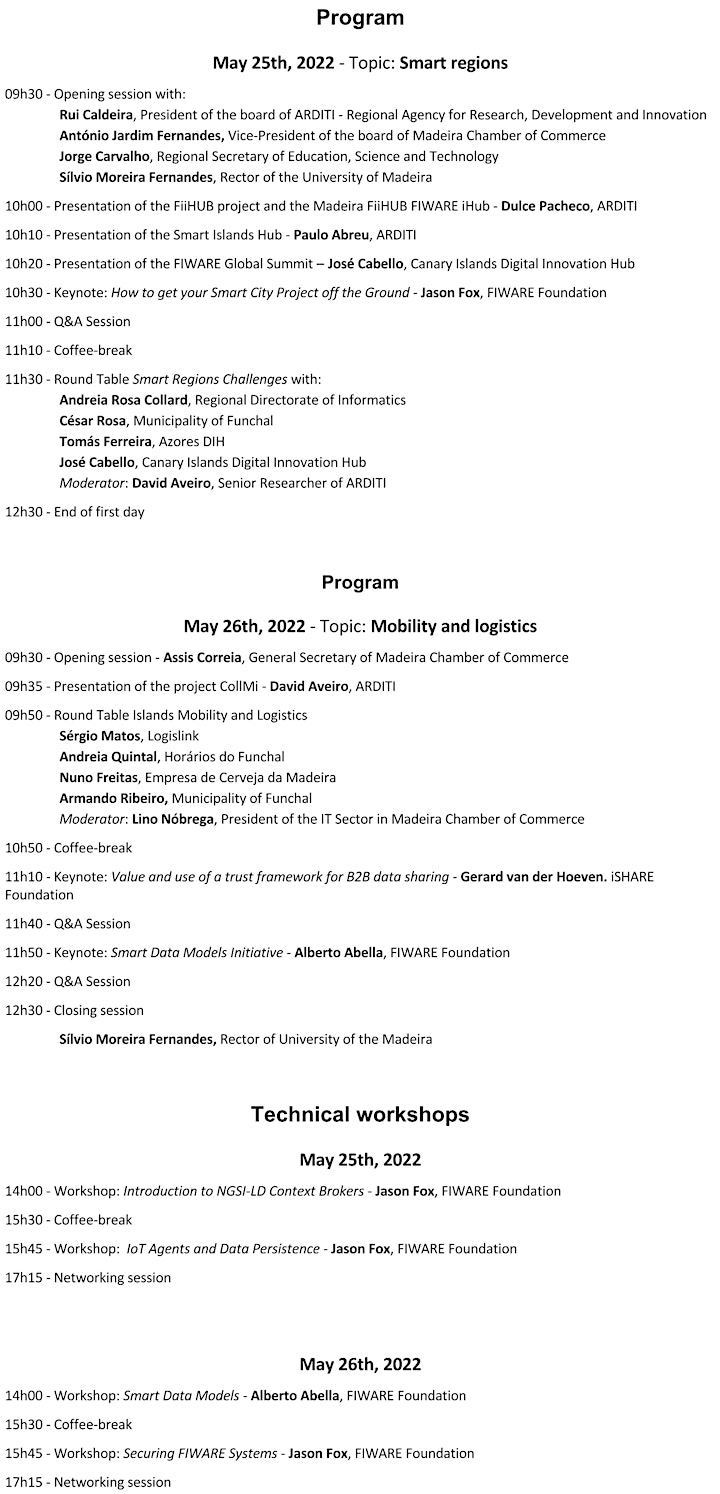 What is FIWARE?
It is a curated framework of Open Source Platform components to accelerate the development of Smart Solutions.
The FIWARE Foundation, together with its members and partners, drives the definition – and the Open Source implementation – of key open standards that enable the development of portable and interoperable smart solutions in a faster, easier and affordable way, avoiding vendor lock-in scenarios, whilst also nurturing FIWARE as a sustainable and innovation-driven business ecosystem.
What is FIWARE Camp?
FIWARE Camp Madeira will feature talks by international experts and round tables with regional specialists.
On the morning of May 25th, the topic "Smart Regions" will be addressed, and on the morning of May 26th, the focus will be on the topic "Mobility & Logistics".
Technical workshops on the key components of the FIWARE framework will take place in the afternoons of May 25 and 26. These are reserved for technicians with experience in software design and/or development and good knowledge of English.
The event will take place at the Colegio dos Jesuitas, Funchal.
Who should attend?
Managers of companies with responsibilities in the areas of digital transformation or technology management.
Members of software design and development teams of SMEs, large companies and start-ups developing solutions based on open source platforms.
Members of software design and development teams in the public administration that develop or intend to develop solutions compatible with FIWARE framework.
Professionals interested in learning about the FIWARE solutions.
Students and recent graduates in the areas of computer engineering, software engineering, computer science, telecommunications, data science and related areas.
Who organises it?
FIWARE Camp Madeira is organised by ARDITI and ACIF-CCIM, under the FiiHUB project, funded by INTERREG MAC.
The FiiHUB project involves entities from the Azores, Madeira, Canary Islands and Cape Verde archipelagos and aims to create and execute the first digital innovation hub of the Internet of the future for the technological acceleration of SMEs from the Macaronesia.
-------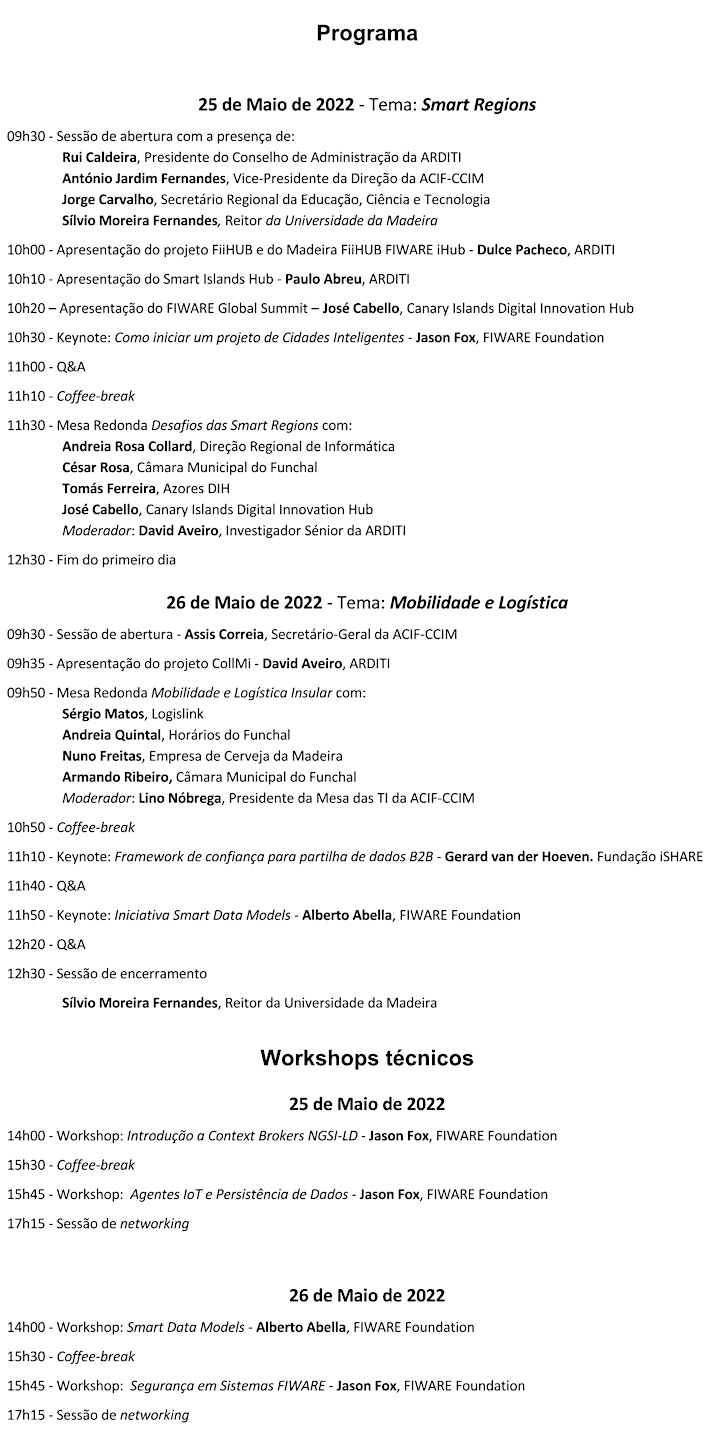 O que é FIWARE?
É um conjunto curado de componentes de código aberto para acelerar o desenvolvimento de soluções inteligentes.
A Fundação FIWARE, juntamente com os seus membros e parceiros, impulsiona a definição - e a implementação em código aberto - de normas chave que permitem o desenvolvimento de soluções inteligentes portáteis e interoperáveis de uma forma mais rápida, fácil e acessível, evitando cenários de "lock-in" de fornecedores, ao mesmo tempo que alimenta o FIWARE como um ecossistema empresarial sustentável e orientado para a inovação.
O que é o FIWARE Camp?
O FIWARE Camp Madeira contará com palestras de peritos internacionais e mesas redondas com especialistas regionais.
Na manhã do dia 25 maio será abordado o tema "Smart Regions" e na manhã do dia 26 maio o foco irá recair sobre o tópico "Mobilidade & Logística".
Nas tardes dos dias 25 e 26 de maio terão lugar workshops técnicos sobre os componentes chave da framework FIWARE. Estes workshops estão reservados a técnicos com experiência no design e/ou desenvolvimento de software e com bons conhecimentos de Inglês.
O evento terá lugar no Colégio dos Jesuítas, no Funchal.
Quem deve assistir?
Gestores de empresas com responsabilidades nas áreas da transformação digital e gestão tecnológica.
Membros de equipas de desenho e desenvolvimento de software de PME, grandes empresas e start-ups que desenvolvem soluções baseadas em plataformas de código aberto.
Membros de equipas de desenho e desenvolvimento de software de entidades públicas que desenvolvem ou pretendem desenvolver soluções compatíveis com a framework FIWARE.
Profissionais interessados em conhecer as soluções FIWARE.
Estudantes e recém-licenciados nas áreas das engenharia informática, engenharia de software, ciências da computação, telecomunicações, ciência dos dados e áreas afins.
Quem organiza?
O FIWARE Camp Madeira é organizado pela ARDITI e ACIF-CCIM, no âmbito do projeto FiiHUB, financiado pelo INTERREG MAC.
O projeto FiiHUB envolve entidades dos arquipélagos dos Açores, Madeira, Canárias e Cabo Verde e visa a criação e execução do primeiro polo de inovação digital da Internet do futuro para a acelaração tecnológica das PME da Macaronésia.