Event Information
Location
Colégio dos Jesuítas do Funchal
Rua dos Ferreiros Estrada
9000-082 Funchal
Portugal
International meeting to discuss trends of the FIWARE framework.// Enconto internacional para disseminar as tendências da framework FIWARE.
About this event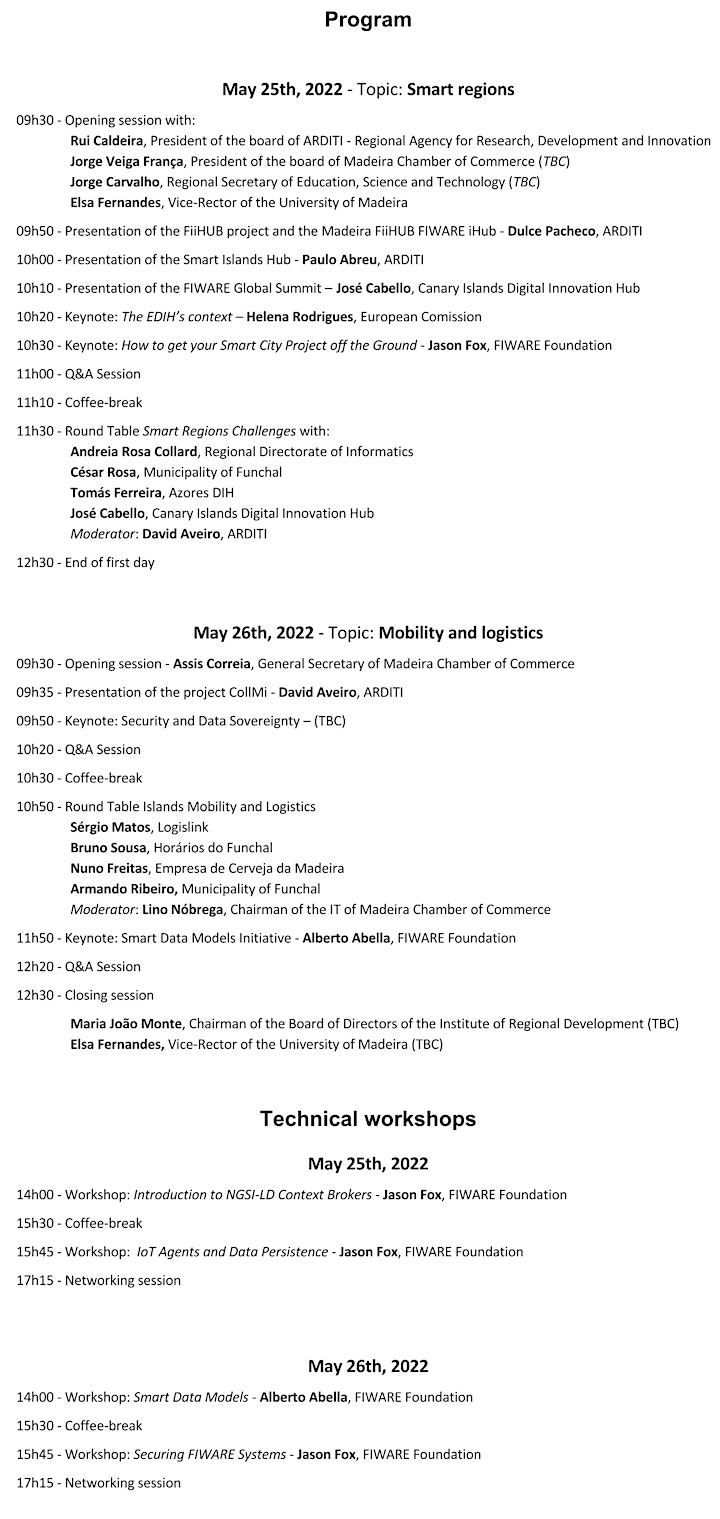 The FIWARE Camp Madeira will gather keynote speakers and round tables which on the morning of May 25th will address the topic "Smart Regions" and on the morning of May 26th will focus on the topic "Mobility and Logistics".
In the afternoons of May 25th and 26th, there will be technical workshops on the implementation of the FIWARE Framework.
This event is aimed at:
- SMEs, start-ups and large companies developing solutions based on open-source platforms;
- professionals who are interested in learning about the solutions integrated with FIWARE;
- public entities who want to develop solutions compatible with the FIWARE platform;
- students and recent graduates in computer science, telecommunications, data science and related areas.
The FIWARE Camp Madeira is organized by ARDITI and ACIF-CCIM, in the scope of the FiiHUB project, funded by INTERREG MAC. The FiiHUB project involves entities from the Azores, Madeira, Canary Islands and Cape Verde. This project aims to create and implement the first technological reference centre for the development of the business and entrepreneurship ecosystem of Macaronesia.
Learn more about the event: https://madeirafiwareihub.org/madeira-fiware-camp/
-------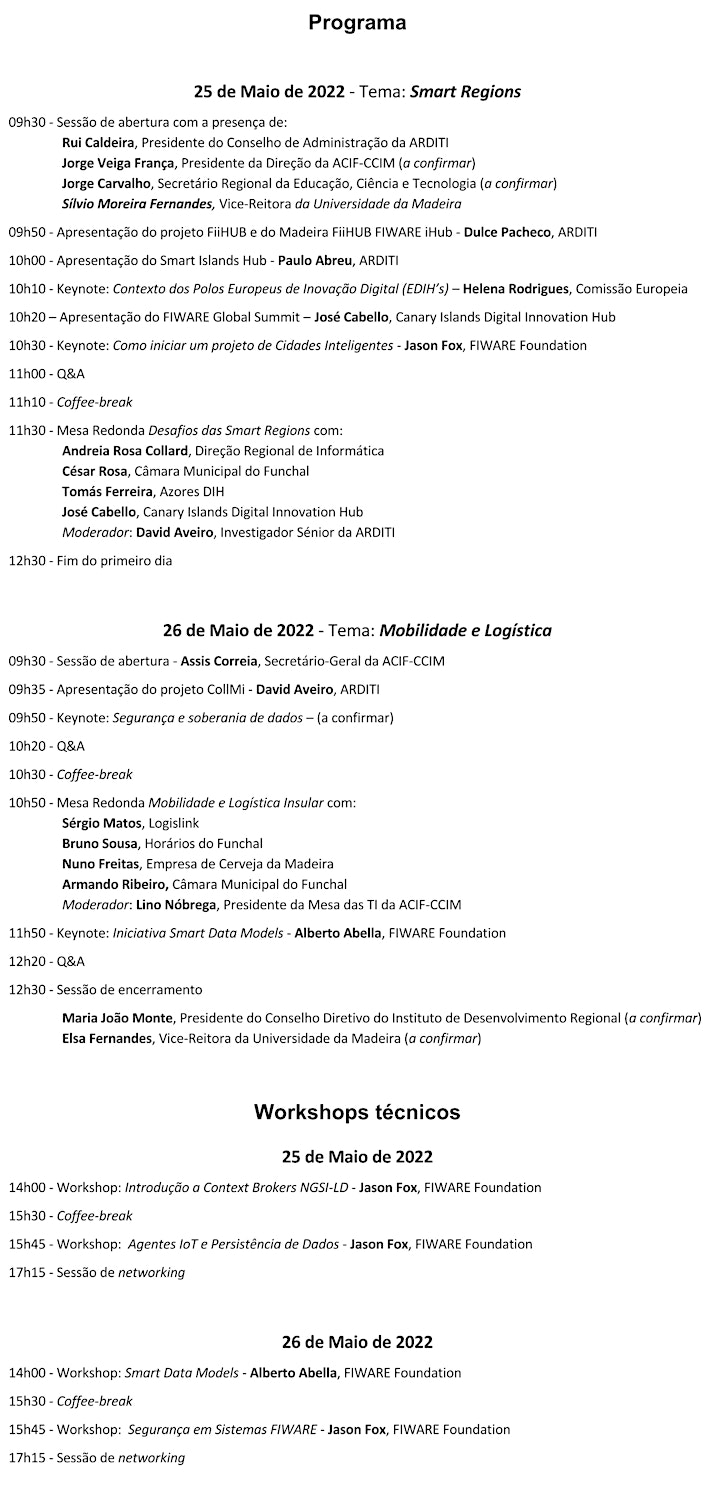 O FIWARE Camp Madeira contará com keynote speakers e mesas redondas que na manhã do dia 25 maio irão abordar o tema "Smart Regions" e na manhã do dia 26 maio irão focar-se no tópico "Mobilidade e logística".
Nas tardes dos dias 25 e 26 de maio terão lugar workshops técnicos sobre a implementação da Framework FIWARE.
Este evento destina-se a:
- PME, start-ups e empresas de grande dimensão que desenvolvem soluções baseadas em plataformas open-source;
- profissionais que estão interessados em conhecer as soluções integradas no FIWARE;
- entidades públicas que querem desenvolver soluções compatíveis com a plataforma FIWARE;
- estudantes e recém-licenciados nas áreas das ciências da computação, telecomunicações, ciência dos dados e áreas afins.
O FIWARE Camp Madeira é organizado pela ARDITI e ACIF-CCIM, no âmbito do projeto FiiHUB, financiado pelo INTERREG MAC. O projeto FiiHUB envolve entidades dos arquipélagos dos Açores, Madeira, Canarias e Cabo Verde. Este projeto visa a criação e execução do primeiro centro de referência tecnológica para o desenvolvimento do ecossistema de negócios e empreendedorismo da Macaronésia.
Mais informações: https://madeirafiwareihub.org/madeira-fiware-camp/
Date and time
Location
Colégio dos Jesuítas do Funchal
Rua dos Ferreiros Estrada
9000-082 Funchal
Portugal