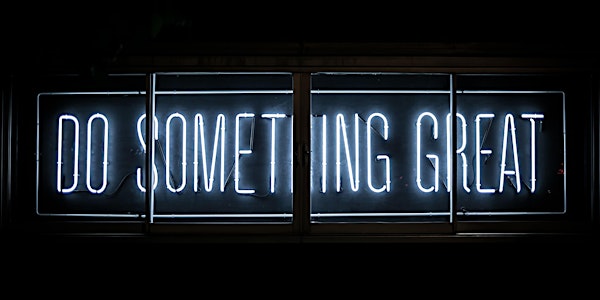 FIRE YOUR BOSS & CHANGE THE WORLD - How to build a purpose-driven business
Learn the actionable framework that can guide you to build a small business that makes money while doing good for the world.
When and where
Location
The Office Rua Gil Eanes 19 8600-742 Lagos Portugal
About this event
Do you want to start or grow a business that not only makes money, but is a force for positive change in the world?
Do you want to attract more customers, but you don't know where to start?
Do you want to stand out from your competitors, but aren't sure of why your business is different?
Are you growing tired of the 'daily grind' and want to find a source of motivation that will make you leap out of bed with excitement each day, knowing you are making a difference to the world?
You can achieve all of these things at once. Purpose and profit do not need to live separately.
In this workshop, whether you already operate a business or just dream of starting one, I will guide you to build your own personalised, actionable framework for a business that will stand out, attract devoted customers, increase your revenue and make the world a better place.
Purpose-driven, for-profit small businesses can truly make a better world, not just for the entrepreneur, but also for their communities, society as a whole, and the planet we live on.
ABOUT YOUR COACH
Hey, I'm Matt.
I've spent 15 years starting and running businesses, and I'm a coach, speaker, and author on how to start and grow purpose-driven small businesses that make the world a better place.
I started my first business in 2008 - hosting ski & snowboard holidays in a rickety old chalet in France - without any prior experience, education, or money, and against the odds built a multi-national extreme sport holiday company. During this time, I learned valuable lessons - often the hard way - of what to do, and not do, when running a small business.
In addition to becoming a serial entrepreneur and impact investor, I've studied Sustainable Business Strategy at Harvard, I am the author of 'Fire your Boss and Change the World', which is being published in 2023, and I have now devoted my life to mentoring and coaching other entrepreneurs on their start up journey.
I can't wait to share my experiences with you to help you build a better business and make your impact on the world.
TESTIMONIALS
"Having the expertise working in the industry was a great start but having business training with Matt put us years ahead of where we should have been!"
Katie P, Pom Pom Bagels, Lagos, Portugal.
"I started working with Matt hoping that I would get some advice on my website, business cards and what to call my Instagram page. Well, I got all that, and a lot more. I am now on a journey with Matt that I didn't even know I wanted to be on, but I am so glad that I am.
Matt has opened my eyes to look at my 'why', and how I want to do my work, to give it meaning, longevity and sustainability. He has encouraged me to think long term and to think BIG…which is scary at times, but when he is also your biggest cheerleader you feel that fear and do it anyway.
Matt has changed my mindset from working as a yoga teacher and a ski teacher to working as a brand and a business owner."
Sarah W, Maia Ski & Yoga, Zermatt, Switzerland.
WHAT YOU'LL LEARN
During this workshop, you'll learn how to:
If you are starting out or haven't got an idea of what kind of business to start, you'll learn how to choose the best business for you.
If you already have a business, you'll learn how to stand out from your competitors and attract the 'right' type of customers to your business, who will be loyal fans, spread positive word of mouth about your business, and will gladly pay higher prices than those you currently charge.
Create maximum positive impact with your business, and how you can leverage that to generate maximum profit.
Build a powerful brand that is recognisable, memorable, and newsworthy.
and more!
WHAT YOU'LL GET
90 minutes of group tuition from Matt Deasy, a business coach, speaker, certified B-Corp consultant, and author with 15-years' experience of starting and running small businesses. (Valued at €300).
A challenging but supportive learning environment with a small group of your peers, where you'll run through proven exercises which will enable you to develop a personalised plan to develop and strengthen your purpose-driven brand to help you attract more customers.
You'll finish the workshop with clarity on your next steps.
Q&A session with Matt for any questions you have to help your business.
FREQUENTLY ASKED QUESTIONS
WHAT TYPE OF BUSINESSES / INDUSTRIES IS THIS WORKSHOP GOOD FOR?
Any. The principles of the lessons within this workshop can be applied to small business owners in any industry, however Matts experience, and maybe where he is best placed to help is in service industries, such as tourism, hospitality, wellness, food and drink, and experience businesses.
WHAT SHOULD I BRING WITH ME?
Laptops / tablets are good, but large notepads and pens / pencils are better. The brain is activated in different ways when you write with a pen and paper, and we find that students creativity increases by note-taking and brainstorming in the old-fashioned way!
WHERE IS THE WORKSHOP HELD?
The workshop will be held in 'The Office' studio at Rua Gil Eanes 19, in the centre of Lagos, Portugal. For a map link, click here.
WHEN IS THE WORKSHOP?
The workshop runs from 1900-2030 on Tuesday 22nd November.
IS THERE PARKING NEARBY?
The nearest parking is on the Avenida dos Descobrimentos. For a map link, click here.
WHO WILL THE OTHER ATTENDEES BE?
Attendees to our workshops are other entrepreneurs like you – 'normal' people who share the wonderful attributes that all entrepreneurs share – ambition, enthusiasm, imagination, and the bravery to start their own business.
Previously we have helped entrepreneurs from a huge range of industries, from yoga teachers to restaurant owners and social media managers to coffee roasters.
WHAT IF I PAY AND THEN HAVE TO CANCEL?
Unfortunately, due to the very limited number of spaces on the course, we are unable to offer a flexible cancellation policy.
Your space on the course, however, is transferrable, so if you are unable to attend and you find someone who would like to take your place on the course then you can switch places free of charge.
WHAT IF I HAVE ANY QUESTIONS?
We're here to help with any questions that you might have! Please feel free to reach out to us at hello@matt-deasy.com.