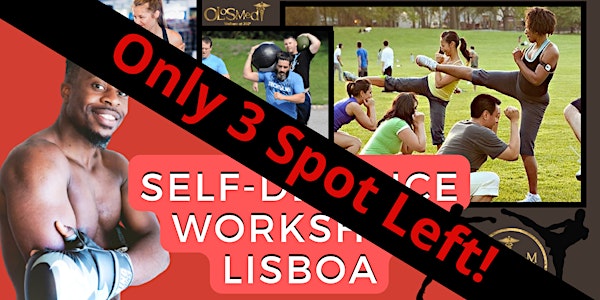 Fight sport and Self Defence Workshop (Bootcamp for all levels)
A beautiful occasion to connect with new people and to approch the fight realm by engaging in multiple fun packed activities.
When and where
Date and time
Sat, 11 Mar 2023 14:00 - 16:00 WET
Location
Academia da Estrela Rua do Quelhas 32, 1200-724 1200-724 Lisboa Portugal
About this event
First of all, the event is totally free... but all type of donations to support the project are well appreciated! :)
Building even basic fighting skills has never become important, like nowadays!
Here are a few reasons why:
First of all, you never know when and if is going to become handy.. but better be ready!
It's going to improve you physically (muscle growth, fat loss, strength, balance, stamina, speed, explosivity, flexibility, elasticity, endurance, improved heart and lung conditions, etc)..
Improve your brain functionality (timing, coordination, reflex, space awareness, quick thinking, critical thinking, body language analysis, reactivity, etc..)
Improves your state of mind (confidence, self awareness, emotional behavior, reduce impulsiveness, overall happyness, etc...)
Helps you to understand resilience and discipline.
Helps you to understand body mechanics
Helps you to understand how to live life like a warrior in a garden and not like a gardener in a war.
What are we going to do?
- Understanding the five W of fighting
- Bootcamp Training
- How to escape street danger scenarios
- Fight psychology
- Group game activities
- Learning some self-defence moves from various fighting styles:
Muay Thai
Kickboxing
MMA
Grappling
Kyokushin Karate
Judo
What to Bring:
-A big towel or a yoga mat
-A small towel
-Water
-Punchin gloves (just if you have them already)
-Sneakers
-Comfortable outfit for outdoor training
-Motivation and will to learn
-Good mood
Disclaimer:
Everybody is welcome, but this is a safe space so having RESPECT to every single person... will be a must!!!
It will be the trainer's duty to keep order and to ensure safety during all the workshop. But the trainer is taking no responsibility for any misbehaviour from the partakers of the event or for circumstances caused by medical conditions not previously announced. Not following these simple rules will lead you to getting kicked out of the event!
The meeting point will be at the main bar of the garden close to the entrance which faces the Basilca da Estrela so let´'s meet there and having fun togheter:)
You are welcome to join our new WhatsApp group also to facilitating comunication during the day of the events: https://chat.whatsapp.com/DdEcB1yusWWIm8GYozr4t4
Cheers!