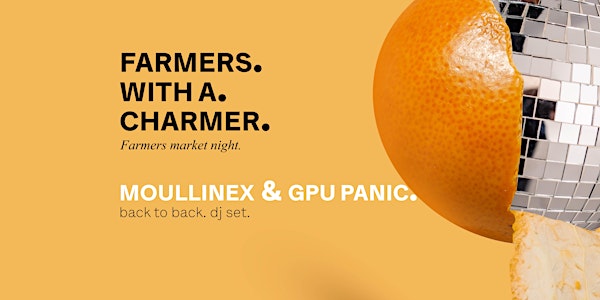 FARMERS. WITH A. CHARMER.
A emblemática Noite do Mercado, seis pisos acima, mesmo ali ao lado. A twist to emblematic Farmers Market in Funchal.
When and where
Location
THREE HOUSE HOTEL 2 Rua Brigadeiro Oudinot 9060-209 Funchal Portugal
Refund Policy
Refunds up to 7 days before event
Eventbrite's fee is nonrefundable.
About this event
Descascamos a emblemática Noite do Mercado para saboreá-la no seu pleno. Uma noite com os aromas tradicionais desta noite Madeirenses e com uma programação musical como tão bem já esperas de nós.
MOULLINEX.
GPU PANIC.
JAY CAMARA.
PHILL.ME.
GONÇALO CAMACHO.
Montamos a emblemática tenda insuflável do Three House para trazer a pista de dança ao 6º andar. Não faltarão os cocktails assim como a tradicional Poncha, trazida pela Venda do Noé nesta noite especial. Às comidas junta-se as Baos de Vinha de Alhos a outras iguarias que unem a tradição à inquietude das criações do Chef. Mauricio Faria.
Moullinex
DJ, músico e produtor baseado em Lisboa Moullinex prospera nas interseções: ciência e arte, espontaneidade e formalismo, orgânico e artificial, isolamento e comunidade. Esta ideia cristalizada em música que pode viver perfeitamente dentro dos limites da pista de dança e ainda permitem uma introspecção profunda em headphones. De texturas eletrônicas melancólicas a o house e disco exuberantes, suas produções viram-o ser elogiado por seus pares e audiências globais.
Luis Clara Gomes passou os seus anos de formação a olhar para as estrelas. Do desenho galáctico mapas e esboços de espaçonaves imaginárias quando era criança a fazer pesquisas em astronomia como adulto, a sua obsessão pela ciência foi o trampolim para a música eletrônica, onde primeiro tropeçou em maestros de trilhas sonoras eletrônicas como Vangelis e Giorgio Moroder e depois Air, Stevie Wonder e MPB brasileira.
Sob o pseudônimo de Moullinex, ele começou a fazer remixes para Cut Copy, Sebastien Tellier, Royksopp e Robyn, entre muitos outros, ao lançar consistentemente originais de qualidade através de seu próprio selo Discotexas, ao lado de Xinobi, seu parceiro no crime. Três álbuns seguiram-se, "Flora", "Elsewhere" e "Hypersex", estabelecendo Moullinex como um versátil, subtil e produtor multifacetado.
GPU Panic
Como muitos engenhos - surgiu de uma limitação. Tudo começou com um computador defeituoso e um erro, que impediam Guilherme Tomé Ribeiro de produzir música sem interrupções aleatórias. A persistência levou-o a criar o seu primeiro EP.
GPU Panic explora texturas electrónicas num ambiente nostálgico e enigmático, onde, por vezes, a voz ao fundo conduz a música e funde-se com os sintetizadores, basslines e beats que nos guiam ao longo de três curtas viagens.
Guilherme marcou presença na edição deste ano da Red Bull Music Academy que decorreu em Montreal, onde estreou na RBMA Radio o primeiro single "Tanger" e actuou pela primeira vez como GPU Panic, numa noite que contou com a presença de nomes como Suzane Cianni, Veronica Vasicka e Kaitlyn Aurelia Smith.