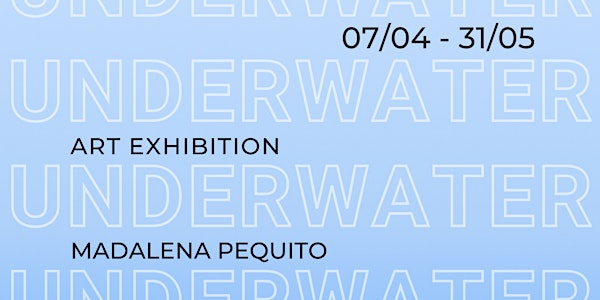 EXPOSIÇÃO DEBAIXO DA AGUA / EXPOSITION UNDER WATER by MADALENA PEQUITO
Veranstaltungsort
Thank You Mama Café
9A Rua do Forno do Tijolo
1170-132 Lisboa
Portugal
07/04 Exhibition opening day with Madalena Pequito, music, and cocktails.
Zu diesem Event
THANKYOUMAMA Cafe is pleased to invite you for the opening of a new exhibiton with talanted Madalena Pequito.
This exhibition focuses on water as the main character of today's world. Water actively participates in all the scenarios represented in these works and serves as a differentiating factor between antagonistic social and cultural contexts.
Artist's short Biography
Madalena Pequito, Lisbon, 1996. BA in Painting at Fine Art Faculty of Lisboa, MA at Central Saint Martins, London. The artist has always sought to promote dialogue between artists and works at a shared studio in Núcleo A70, Marvila.
In 2021, Madalena was selected for the prizes Jovens Criadores and Prémio Internacional de Artes da Guarda, in 2020 for the Retirement Call art prize and in 2019, she received an honorable mention at Loures Jovarte Biennial.
She held solo exhibitions: We Need to Talk, at the A-space gallery in 2021, By Invitation, at the Mercês cultural space, in 2021, Containers, at the LX Jovem space in 2020, and Wraps, at Fábrica Braço de Prata in 2019.
We also highlight the following collective exhibitions: Mostra, Lisbon in 2020; ArtFem Macao Biennial, Macao Museum of Art in 2018; II Paula Rego Prize, Casa de Histórias in 2017; Busman Holiday, Galeria Lábor, Budapest in 2017.
Madalena is represented by the Aesse Studio gallery in Dusseldorf. She has written for Altiba-9 and Friends in the Arts magazines. She is one of the founders and participants of the collective Vês.Três.