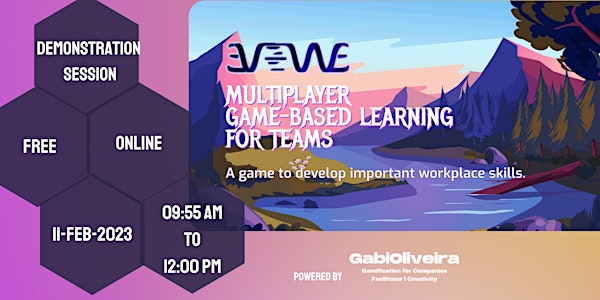 Evvive - A Leadership Experience
This is an opportunity to join a journey to learn how gamification can help you to evolve as a leader!
When and where
Date and time
Saturday, February 11 · 1:55 - 4am PST
About this event
This session is powered by Gabi Oliveira - Gamification for Companies (https://gabioliveira.pt).
I'm Gabi Oliveira, a facilitator who applies gamification tools during my sessions to guide teams to achieve their results in areas such as project management, communication, engagement, and decision-making.
I 'm applying to be a facilitator of Evvive - the leadership game to help people develop soft skills to support teams as leaders.
As the final goal of my certification program and to be credited as a certified facilitator, I must lead a facilitation session with Evvive and submit the recording to Gamitar (game provider) to be evaluated.
The goal is to evaluate my performance as a facilitator and not the participants in playing the game.
By joining this session, you're going to have the opportunity to learn for free how to play Evvive and reflect on your experience during the game when being challenged to collaborate, communicate, deal with uncertainty, and make decisions with a team.
Consent to Use Session Recording for Certification Purposes
By confirming your participation in the Demonstration Session of Evvive - the leadership game provided by Gabi Oliveira, you authorize Gabriela Becker Oliveira to record the session and share it only with Gamitar as part of her certification program. By doing it, your image will not be shared by Gabriela Becker Oliveira or Gamitar outside the evaluation process of her certification.
Learn more about Gamitar: https://www.gamitar.com/
Learn more about Evvive here: https://evivve.com
Please note this is a highly interactive session, so come to laugh, play, make mistakes and have fun -my promise to you is that I will personally make sure that you are taken care of.
Therefore, at the risk of sounding arrogant (please don't take it that way), if you're coming to "observe", please don't come!
AGENDA:
In this session, you can expect to:
• Learn about Multiplayer Online Game-based Learning (15 minutes)
• Meet and greet attendees (10 minutes)
• Learn how to play Evivve (15 minutes)
• Play a real game with other participants (45 minutes)
• Draw learning through a debrief (20 minutes)
• Discuss the application of the methodology in the context of learning (10 minutes)
BACKGROUND:
These are exciting times, we get to play and learn right from the comfort of our homes in as little time as 2 hours. It speaks a lot to what technology is able to achieve. The format of the game that we'll be playing is adopted from a genre called MMO - Massively Multiplayer Online. Ours won't be massively multiplayer but it'll certainly be multiplayer and online thus: MOGL - Multiplayer Online Game-Based Learning.
WHEN: Saturday 11Feb2023 (09:55am up to 12:00pm – UTC)
WHERE: Online - Google Meet link to be sent by email
HOW MUCH: Free
About the organizer
Sou facilitadora de equipas e formadora em jogos estratégicos. Novas ferramentas e métodos para mudar uma realidade e fazer as coisas diferentes chamam a minha atenção. Assim que isso ocorre começo a estudar e praticar.
Estou aqui para criar experiências para ajudá-lo a ter a iniciativa e atingir resultados melhores através do exercício da criatividade.
Estou a trazer formações inovadoras e inéditas para Portugal e assim disseminar o poder dos jogos sérios na nossa rotina.