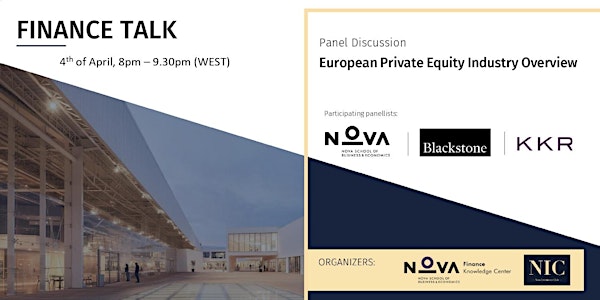 European Private Equity Industry Overview
Panel discussion: European Private Equity Industry Overview
About this event
Dear students and finance enthusiasts,
Nova Investment Club and Nova Finance Center are delighted to announce this month's Finance Talk.
On Monday, April 4th from 8pm to 9.30pm (WET) we will host a panel discussion on the European private equity industry. We are beyond exited to welcome our panellists:
Saleh Panahi, Managing Director, Blackstone
Bernado Nogueira, Principal, KKR
Luis Duarte, adjunct Professor, formally Bridgepoint.
The panel will be moderated by Nova Investment Club and participants have the opportunity to direct questions to the panellists.
We are looking forward to seeing you there.
Nova Investment Club
Zoom:
https://us06web.zoom.us/j/89289019686