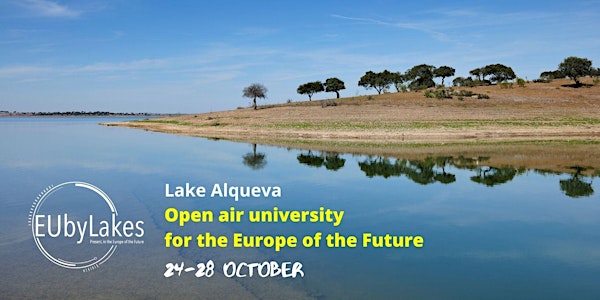 EUbyLakes / Europe For Citizens - Open air university
Final session of the EUbyLakes project, under EU for Citizens programme.
When and where
Location
Reguengos de Monsaraz Praça da Liberdade 7200 Reguengos de Monsaraz Portugal
About this event
In 2020 and 2021 1st Virtual Artistic Residency and the CultureKIrC Fest we held preparing the Open Air University to be held from Oct 24th to Oct 28th, in Alentejo, Portugal, supported by the European Commission's Eu for Citizens programme.
Those preparatory initiatives proved to be a success, making a great contribution to the citizens' dialogue about the future of Europe policies, bringing the power of creativeness and artistic views under the theme "Our future Europe".
From 24-28 October 2022, Alentejo (Portugal) will host the final session of the EUbyLakes project, under EU for Citizens programme. The topics under debate are:
Democracy, equality, cohesion, digital, climate and biodiversity;
Role of regions in future European governing architecture;
Geo-political challenges resulting from aggression war against Ukraine and our values.
This is a call for creators, notably Media Project creators for participating and contributing in our Open Air University. This is expected to be launchpad for new media projects and an opportunity to express independent views. All video contributions and artworks will be part of the programme's digital legacy.
Join us in Reguengos de Monsaraz, help us deepen and opening the debate.
Participants with media projects (video, photography, statements, recorded interventions) will be broadcasted in the municipal auditorium before the final concert, by a renewed Ukrainian band, and on-line.
More infos: residency@eurolake.eu
About the Project
This Europe For Citizens project is a path organised into six modules and a Lakathon. Each Module is a five-day retreat near a European Lake, in a different European Region.
The first three Modules examines the pillar of future Europe: Democracy, Cohesion, Equality. The seconds move on analysing the drivers of its sustainability: Climate Neutrality, Biodiversity, Digital Innovation.
Creative contents, media projects, Open-air debates, informal learning activities, and participant-led conversation aims to achieve EUbyLakes' objectives:
(1) promote forward-looking discussion on the future of Europe, (2) increase participants' knowledge and understanding of the EU, (3) contribute to citizens' awareness of EU, (4) establish a regular cycle of Open-Air Universities, (5) strengthening the role of regions in the future European governance and institutional architecture.
Know more: http://eubylakes.eurolake.eu