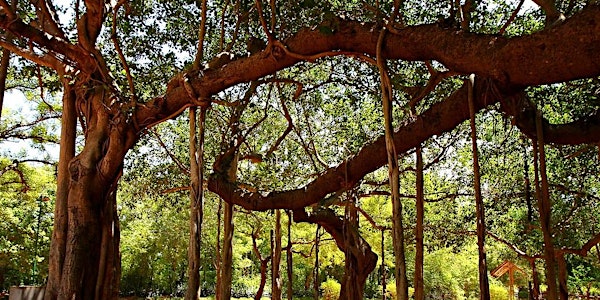 Eternal Forest through human unity in Auroville
We are speaking with Natasha Storey and Christoph Pohl about reforestation in Auroville - to bring back tropical forests
Refund Policy
Contact the organiser to request a refund.
Eventbrite's fee is nonrefundable.
About this event
We are speaking with Natasha Storey and Christoph Pohl about reforestation in Auroville, India, several decades of eco-restoration efforts to bring back tropical forests and create favourable conditions for human life and biodiversity. We will watch together the film Ever Slow Green by Christoph Pohl (56 min) and have a conversation with both Natasha and Christoph.
About Auroville
Auroville is an intentional community dedicated to the ideal of human unity, based on the vision of Shri Aurobindo and the Mother. It is a place where the spirit of its people shines through layers of social, moral, cultural, racial and hereditary appearances. These are people who have dedicated their lives to the path of inner discovery through work. These are people of goodwill who have chosen to drop their sense of personal possession for a collective. By no means does this make it a utopia but rather a place of constant confrontation with the shadow.
Auroville was a barren plateau and when people arrived the first task was to establish shade. The creation of the Auroville forests is a testament to the concerted efforts of countless individuals over the past 50 years. The physical manifestation of this emerging native ecosystem is of course the most striking first impression, however, the social and cultural effects of this work are wide-reaching and no less valuable.
The forests of Auroville have become an inspiration and resource base for countless other reafforestation projects, both in India and around the world. It is by seeing the possibility of restoration that many people are able to comprehend that the current environmental crisis we are facing, is not an irreversible catastrophe. It is actually a situation that can be reversed and ameliorated through coordinated actions.
On a local level, the work in Auroville has done much to reconnect the local communities to their natural heritage. The work done with local healers has documented the use of over 500 plants from the bioregion, and this information is constantly shared with the visiting school and women's groups who come to Auroville for environmental education programs. The forests also provide an incredible genetic resource for future restoration projects, as over 300 species of indigenous trees, shrubs and woody species are currently growing in the Auroville forests and producing viable seeds, which are collected and propagated in tree nurseries within Auroville.
The current situation in Auroville
Currently, Auroville finds itself in a period of Turbulence. A certain developmental approach threatens our forest, our lifestyle and the essence of the spirit we came here for. We trust that eventually, all will be well, but our hope is not to lose our forest in the process.
You can check out the current petition at change.org - to Prime Minister of India, Shri Narendra Modi, to intervene and stop the destruction in Auroville of biodiverse forest and buildings that is taking place without following proper processes.
Petition Link - Please read and sign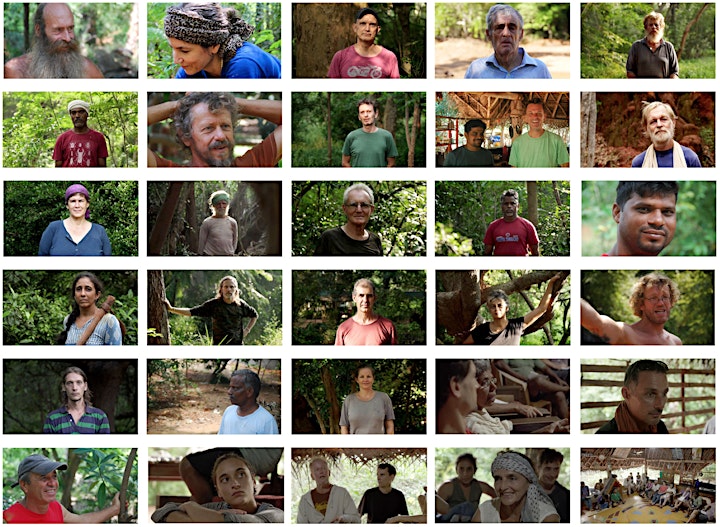 About the film Ever Slow Green
50 years ago, a unique afforestation project took root on an eroded desert plateau in Tamil Nadu, South India, when people from diverse countries came together to establish the international experimental township of Auroville. Initially driven by the necessity to make the harsh conditions more liveable, the idealism of some early residents lead them to develop expertise in cultivating the Tropical Dry Evergreen Forest, a rare forest type native to the coastal belt of Tamil Nadu. Today, the lush Auroville forest is an outstanding example of eco-restoration that recreates and preserves a type of tropical forest that is on the verge of extinction. Ever Slow Green tells the story of Auroville's 50-years-young forest through some of the diverse characters who have dedicated their lives to bring it to fruition.
Links to the film: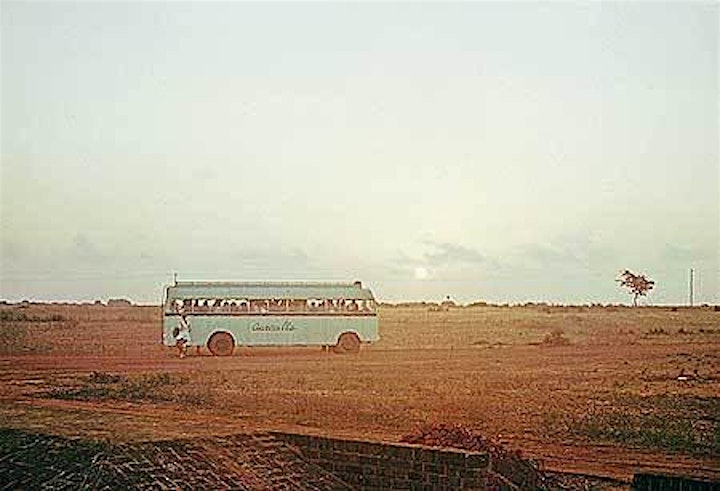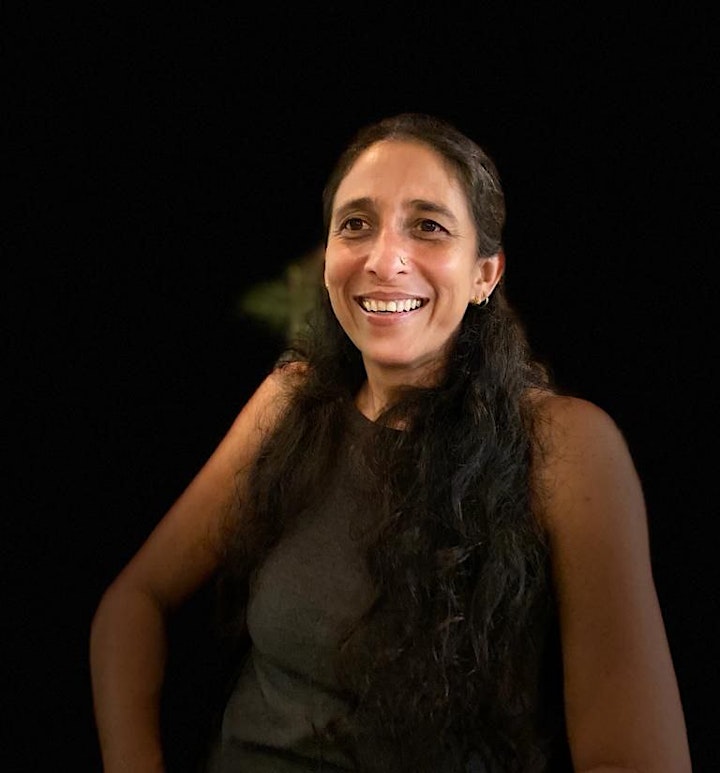 Photo, Natasha Storey, forester
Natasha Storey is a citizen in Auroville and is part of the Forest Group in Auroville working on reforestation and regeneration of biodiversity and healthy ecosystems.
In her own words: 'I have been living in Auroville for the last 20 years and am a forester. I walk into the forest each morning feeling the winds of change upon my skin. Here there is no room for fear or doubt. I have to leave that behind, take off my chappals, feel the bare earth beneath my feet. Look at my life, whatever shape it's currently taking, whatever winds are curling around, whatever fate has brought me and whatever stage I am unfolding within the drama of my life.
Here in the forest, I can step out, off the stage into the real, into the eternal, into the magical place within my being, a body of infinite softness and ease, a place of wonder and silence and light. My troubles drip from my body as I sweat. There are no faces here, not loved ones nor ones I fear. Just the smile of the forest. Great simplicity and mystery and as I work, I begin to feel this within my body, I have to give myself up to it and it makes me disappear.'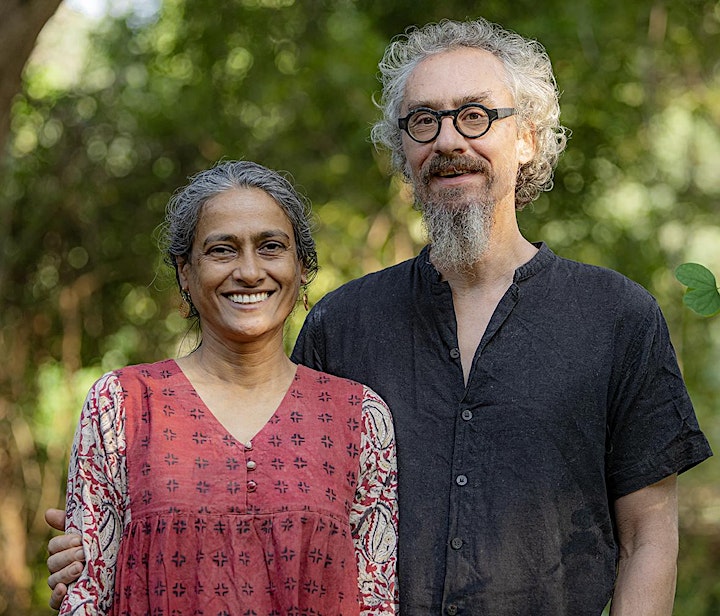 Photo, Christoph with his wife Krishna
Christoph Pohl, Film Director/Producer, 'Ever Slow Green' Film
Christoph Pohl grew up in Germany. He studied media technology engineering and worked in video and film postproduction in Hamburg and Berlin before moving to the experimental international township of Auroville, South India, in 2008. He established brainfever media productions in 2011, and worked as Technical Director for the Auroville Film Festival 2011 – 2017. He is passionate about conserving Auroville's forests and since 2017 he is a co-steward of one of Auroville's forests. He has made various non-fiction short films. Ever Slow Green is his first feature-length documentary film.
Eternal Forest Conversations explore ideas, patterns, questions around the themes of Eternal Forest, creating collaborations, partnerships and building international community.
We have had as guests: Ackroyd and Harvey artists duo, Jane Riddiford from Global Generation, Kathleen Brigidina from Tree Sisters, Monica Gagliano and Sarah Abbott at our special edition of Eternal Forest Conversation during the exhibition 'Say My Name and I Will Tell You My Story', Claudian Doboş, Filipa Simões and Ivan Sellers, Terra Agora Foundation, artist Alan Tod, curator Etienne Verbist, TreeTooManifesto, curator Sue Spaid, artist Ines Rolo Amado, artists Miki Yui and Nathalia Favaro, plant whisperer Rachel Corby, Foresta Collective, forest therapy guide Kari Krogh and curator Yasmine Ostendorf. We also did a conversation on Earth Day in collaboration with ecoartspace, with international artist exchange, Inês Ferreira-Norman, Ruby Reed, Lyla June Johnston, curated by Patricia Watts.
You can watch previous conversations on Youtube
Eternal Forest project is creating 1000 Eternal Forest Sanctuaries to be protected for 1000 years - through art, ecology and community engagement.
Founded in 2018 by artist Evgenia Emets, it is now a growing network of artists, scientists, community projects, reforestation, regeneration and rewilding initiatives around the world.
Instagram Eternal Forest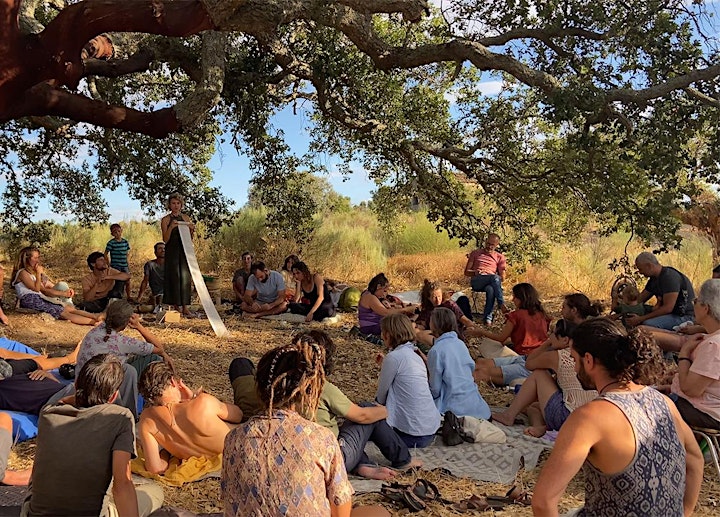 Eternal Forest art experience, Portugal, 2021