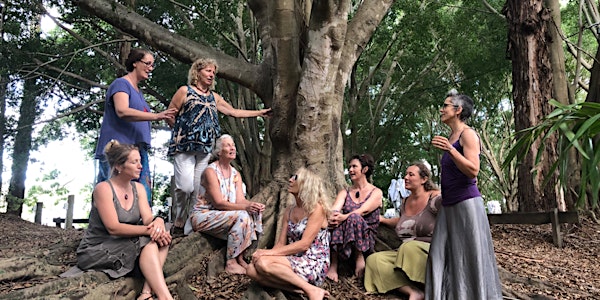 Eternal Forest Conversations: Tuning into Our Feminine Nature
Conversation exploring ideas and questions around the themes of Eternal Forest, creating collaborations, partnerships and building community
About this event
Eternal Forest Conversations: Tuning into Our Feminine Nature
20 August 17.00 (BST)
Guest: Kathleen Brigidina
Eternal Forest Conversations are exploring ideas, patterns, questions around the themes of Eternal Forest, creating collaborations, partnerships and building community. We have had as guests in June and July: Ackroyd and Harvey artists duo and Jane Riddiford from Global Generation.
You can watch previous conversations on Youtube
During our third Eternal Forest Conversation, on August 20, Kathleen Brigidina will talk about her journey with Tree Sisters, a UK registered charity with a mission to rapidly accelerate tropical reforestation by creating a grassroots network of people around the world who are funding the planting of tropical trees. This is invitation for all of us to tune into our feminine nature more deeply, to feel nurtured, nourished and inspired by it, to learn to listen with our feminine being and enable ourselves to act and contribute from that place for the benefit of Earth.
About Tree Sisters
'Our mission is to accelerate reforestation in the tropics by making it as normal to give back to Nature as it currently is to take. We do this by working with world class planting projects that use ethical planting methods to plant native tree species. All of our planting projects involve and employ local communities to ensure the long term success of the trees planted and support the rebuilding of the human connection to Nature. TreeSisters channels and nurtures feminine Nature-based leadership around the world, to restore balance and promote planetary and personal wellbeing.'
About Kathleen Brigidina
Kathleen Brigidina, TreeSisters Artist Liaison & Community Engagement Coordinator: 'I feel blessed to have found my destiny in the core team of TreeSisters Non-Profit, where our focus is on reforesting the tropics and empowering nature based feminine leadership around the world.I am a wife and mother, a Sacred Earth Artist, eco-art & therapy guide, teacher/coach, curator, muralist, poet/writer, water ceremonialist, energy healing practitioner, and Creative Doula, a term gifted to me to describe how I coach others who are birthing their creative gifts into the world. this is my personal website
I am on the council of "Loving Waters", honouring deeper connection, & ceremony with our precious life-giving water, and co-founder of "SisterArt ~ Conscious Creatives", a platform that showcases conscious creativity of the Feminine, with sales & exhibits raising funds in Aid of TreeSisters.
What do Eternal Forest Conversations offer:
- learn deeper about the purpose and the various facets of Eternal Forest art project, get your questions answered and see how you can be part of it;
- get to know the work of our wonderful guest speakers and get engaged through thinking about their questions;
- learn how you can be part of the growing movement for nature and move towards action. 
All sessions are themed, interactive, about 1,5 hour long. Each session is split in two parts. First one includes sharing of the dream of Eternal Forest and update about its current development state, idea generation lab and how you can get involved. Second part invites a guest speaker, who shares their project and asks a question to all of us related to the theme.
For more information about Eternal Forest Project please read Presentation
Join Zoom Meeting
https://us02web.zoom.us/j/3252969080?pwd=dDJmZHFVZFp2VnBMWXFpV2FnV1F2UT09
Meeting ID: 325 296 9080
Passcode: 5W8Msg