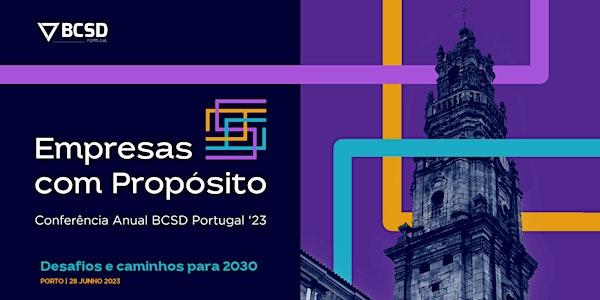 Empresas com propósito | Conferência anual BCSD Portugal
Debate sobre os compromissos e desafios para a década, com destaque para as boas práticas empresariais, temas DEI e competências verdes.
Date and time
Wednesday, June 28 · 10am - 6pm WEST
Location
Alfândega do Porto Rua Nova da Alfândega 4050-430 Porto Portugal
About this event
A conferência focar-se-á nos compromissos e desafios para a década, em especial nas boas práticas empresariais, realçando os bons exemplos dentro do mundo corporativo.
Será um momento privilegiado para conhecer as melhores empresas, líderes do presente (e do futuro), das pequenas e médias, às grandes – e para debater e conhecer as melhores práticas internacionais.
Contamos com Pedro Pina, Vice-Presidente do YouTube, Tomás Sercovich, CEO do Business in the Community, Asthildur Hjaltadottir, Chief Sustainability Officer do GRI e um painel de 18 empresas que apresentarão casos de estudo dentro de 6 setores estratégicos - agroalimentar, construção, mobilidade, retalho, têxtil e turismo. O evento será apresentado e conduzido pelo host João Manzarra.
About the organizer
O Business Council for Sustainable Development (BCSD) Portugal é uma associação sem fins lucrativos que agrega e representa mais de 90 empresas de referência em Portugal, que se comprometem ativamente com a transição para a sustentabilidade.
Ajudamos as empresas associadas na jornada para a sustentabilidade, promovendo o impacto positivo para stakeholders, a sociedade e o ambiente.
Temos uma ampla representação setorial e empresas de diferentes dimensões, desde as que integram o índice bolsista PSI20 a outras de menor dimensão.
O volume de vendas dos associados representa 38% do PIB nacional, 65 milhões de euros em volume de negócios e este grupo de empresas dá emprego a mais de 270 mil colaboradores.
O BCSD Portugal integra a rede mundial do World Business Council for Sustainable Development (WBCSD), a maior organização internacional a trabalhar a área do desenvolvimento sustentável, com mais de 200 empresas associadas em diferentes países e 68 organizações independentes nos cinco continentes, que em conjunto representam mais de 20 mil empresas e uma rede internacional de parcerias.