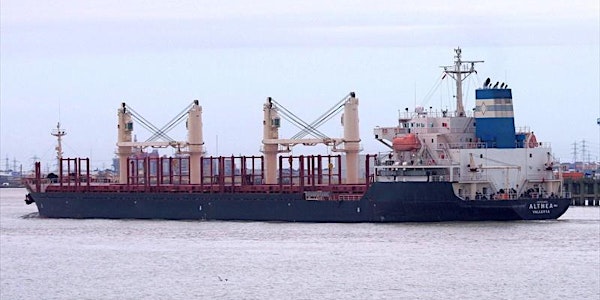 DRAFT DRAFT SURVEY ON BOARD M/V "ALTHEA"
On behalf of owner initial and final survey will be carried on board M/V "ALTHEA"
By Global Shipping Services-Marine Surveyors
Date and time
February 27 · 1pm - March 1 · 3pm -01
Location
Mindelo Sao Vicente, Avenida Oeiras H19 Mindelo, Please select 163 Cabo Verde
About this event
e:Draft Survey Dear Sirs, Good day.. Master will pay in cash with relevant invoice for the for initial and final draft survey in Port of Mindelo noted. Thanks & Brgds, Capt. Wilfredo L. Malana Yealink Phone no. 00 30 211 500 7192 Main Tel. Phn FBB Tel no. +870 7739 10272 GX Tel. no. +870 7713 00883 Fax. no. +870 7839 31880 Email: ilektra@meadwayshipping.com -----Original Message----- From: Meadway Shipping & Trading Inc - Operation Dpt [mailto:operation@meadway.gr] Sent: Wednesday, January 02, 2019 5:31 PM To: lizardojoao@hotmail.com Cc: ilektra@meadwayshipping.com Subject: RE:Re: RE:Re: (REF:190061300) (REF:19006LY00) (REF:19006Q100) Importance: High TELiX MSG: 006Q1-00 02/01/19 17:31 TELiX MSG: 006LY-00 02/01/19 17:12 TO:Capt. Joγo Lizardo FM:MEADWAY cc:Ilektra Re: M/v ILEKTRA AT MINDELO ON ABOUT 05-JANUARY/2019 AGWWP--Initial and final draft surveys. Dear Cpt Joyo good day Cost accepted. Master reading in copy this msge and pls settle cash on board the rel Expenses against receipt. Pls confirm Best regards, P/Cpt. Nikos Kouimanis Operation Dept. Phone : +30 211 5007100 Mob : +30 6940 823980 Email : operation@meadway.gr www.meadwayshipping.com As Agents only
About the organizer
Gss Marine Surveyors, is a service provider in the sector of maritime field. Our team has got large experience, and technical know how, in shipping management, shipping law, ship inspection, general average and above all commited to be your eyes and ears in Cape Verde Islands, following your instructions and guidelines.