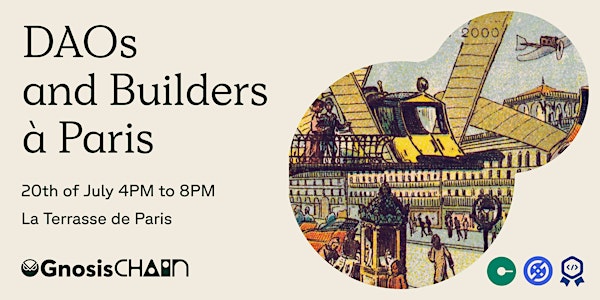 DAOs and Builders à Paris
A Gnosis Chain and Friends Event - with DXdao, GitPOAP and Gnosis Safe
When and where
Location
La Terrasse de Paris 45 Rue Jussieu 75005 Paris France
About this event
We call all DAOs and Builders à Paris!
Gnosis Chain and our friends DXdao, GitPOAP and Gnosis Safe will be in Paris to discuss with you important topics in the web3 space. The event will feature three guided breakout discussion corners around the following topics:
1) "DAOs all the Way Down" - and why Gnosis Chain has the best tooling and services for DAOs
2) "Why Builders are Key, and What We Can Do With On-chain Reputation"
3) "True Decentralization - Nodes, Importance, Why it Matters"
Note: Active participation by all attendees is welcome and desired.
The conversations will start at 4:30PM, be sure to arrive early so you don't miss it!
Featuring:
Gnosis Chain
Gnosis Chain is a future-forward network built for scalability, community, decentralization and sustainable growth.
DXdao
Dxdao is a decentralized autonomous organization, or DAO, that develops, governs, and grows DeFi products
GitPOAP
GitPOAP is a decentralized reputation platform that represents off-chain accomplishments and contributions on chain as POAPs.
Gnosis Safe
Safe is the most trusted platform to manage digital assets and secures >$40 Billion in assets today. Its flagship web and mobile interfaces and expanding ecosystem, Safe is on a mission to unlock digital ownership for everyone in web3 including DAOs, enterprises, retail or institutional users by establishing a universal standard for custody of digital assets, data and identity with smart contract based accounts.
Event Agenda:
4:00PM Doors open
4:30PM Conversations begin
6:00PM Happy Hour and networking
8:00PM End
Come hang out with great builders and DAOs, get to know us and each other over drinks and snacks. Plus, there might be awesome complimentary swag!