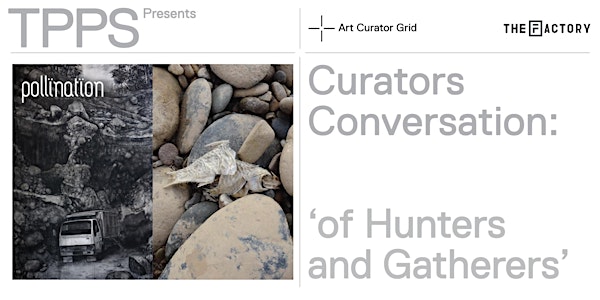 Curators Conversation: "Of Hunters and Gatherers"
Curators Conversation: 'of Hunters and Gatherers'
About this event
Following our mission to build bridges between local art scenes and curators from the rest of the world, we are very happy to invite Zoe Butt and The Factory Contemporary Arts Centre (Ho Chi Minh City, Vietnam) to host a Webinar for the fourth edition of our The Plus Partnership Series, to be held on Zoom on the 1st of April, 2021 (1 PM-UTC+1 / 7 PM-ICT).
Introducing the new edition of the Curators Conversation — Pollination #3: 'Of Hunters and Gatherers'
On this occasion, The Factory will highlight the Pollination Program and its curators - LIR (Yogyakarta) and Kittima Chareeprasit (Chiang Mai), giving global audiences the opportunity to discover this long-term residency initiative, reflecting on their process of working with artists Maryanto (Yogyakarta) and Ruangsak Anuwatwimon (Bangkok), inspired by local folklore, sharing the lives of particular mythical 'hunter', comparing the ethos of such stories to our contemporary context.
What motivates a curator to accompany an artist in the production of their art? In this process, what role does the curator have in assisting the artist navigate socially contentious content? Many artists, particularly those working with contested histories and communities, are collectors of rare data. To what extent is it the curator's responsibility to record/archive/facilitate their findings?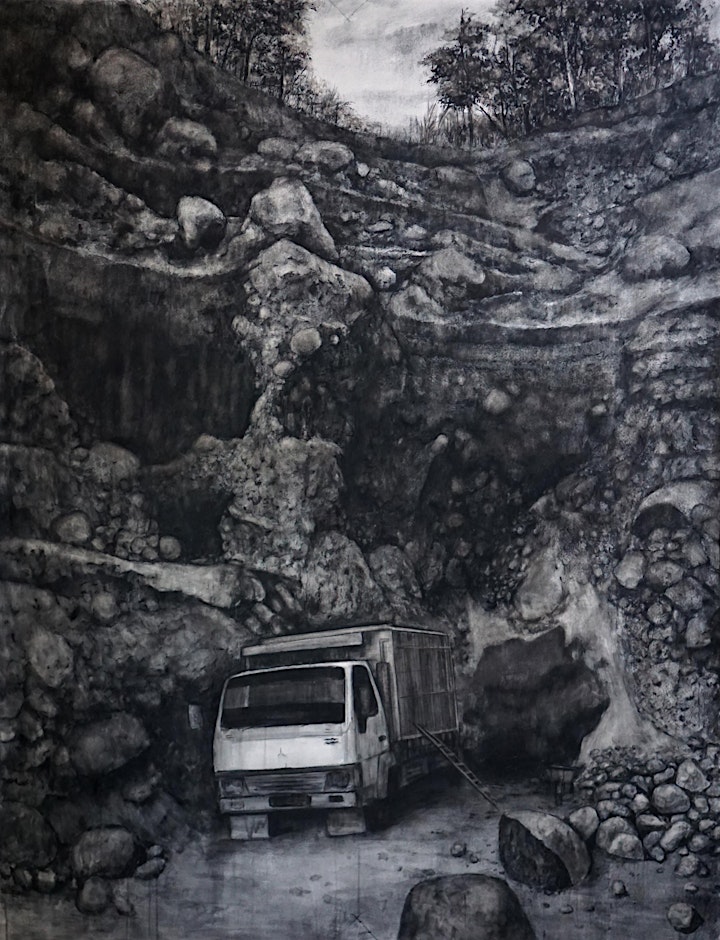 'Maryanto's tent-like installations, composed of paintings in charcoal and earth, share local knowledge of living with respect for Nature and its spirits, concerned by the impact of illegal, corporate and government hunting of water and sand, beneath Mount Merapi' .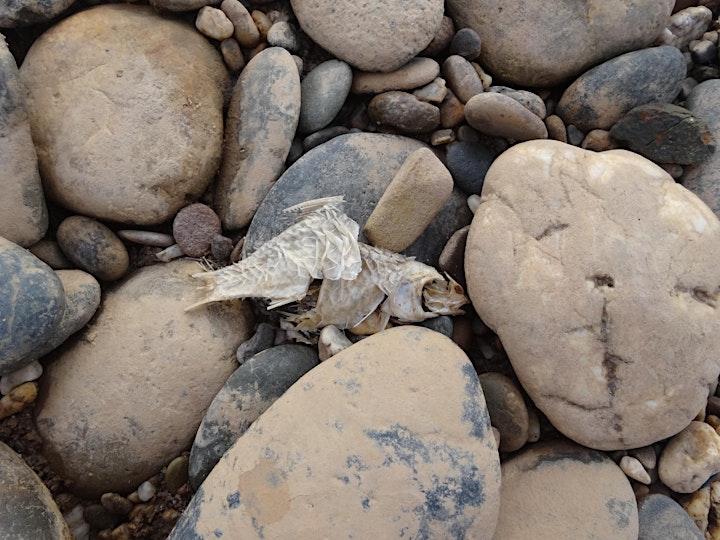 'Ruangsak's varied sculptural installations beg acknowledgement of the many animals whose lives are jeopardized along the heavy damming of the Mekong, creating various diorama from their bones as monument to their spirits that once guarded this crucial waterway'.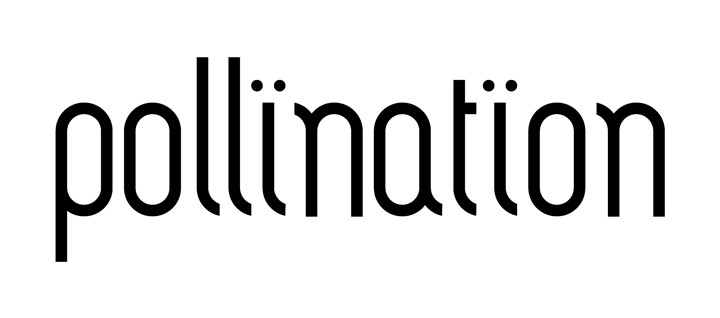 Within this online forum, such questions (and more) will be posed and discussed, their being central to the realization of this third edition of 'Pollination'.
Organized by The Factory Contemporary Arts Centre, in Ho Chi Minh City, commissioned curators LIR (Yogyakarta) and Kittima Chareeprasit (Chiang Mai) in turn invited artists Maryanto (Yogyakarta) and Ruangsak Anuwatwimon (Bangkok) to create the project 'Of Hunters and Gatherers'. After more than a year in field research - beneath Mount Merapi's explosive peaks and the over-dammed Mekong that gives border to Thailand and Laos - there is an exhibition that has opened at the MAIIAM Contemporary Art Museum (Chiang Mai) and an online symposia (28-30 May, 2021) with dedicated website forthcoming.
What is Pollination? Initiated by The Factory Contemporary Arts Centre (Ho Chi Minh City) in 2018, 'Pollination' provides emerging curators and artists in South East Asia the opportunity to co-produce and collaborate, to mutually benefit from this region's private arts infrastructure - platforms recognizing the value of sharing (pollinating) their critical ideas and activities.
Methodology Each year, 'Pollination' invites an additional organization/community group to appoint a senior curatorial advisor. They in turn select an emerging curator who follows on to select an emerging artist. Dependent on location of funds, space and time, each year an edition is realized between two cities, comprised of travel, research, production and exhibition grants in the realization of a joint project (which is open-ended in form). Regardless of project involvement, regular meetings online are arranged to critically discuss forward projects and possible initiatives.
Current members:
Organizations: The Factory Contemporary Arts Centre, SAM Fund for Art and Ecology, ILHAM Gallery, MAIIAM Contemporary Art Museum
Advisors: Zoe Butt, Agung Hujatnikajennong, Rahel Joseph, Vipash Purichanont
Curators: Grace Samboh, Bill Nguyễn, Khatijah Rahmat, Lê Thuận Uyên, LIR (Mira Asriningtyas and Dito Yuwono), Kittima Chareeprasit
Artists: Julia Sarisetiati, Vicky Đỗ, Izat Arif, Hoàng Minh Đức, Maryanto, Ruangsak Anuwatwimon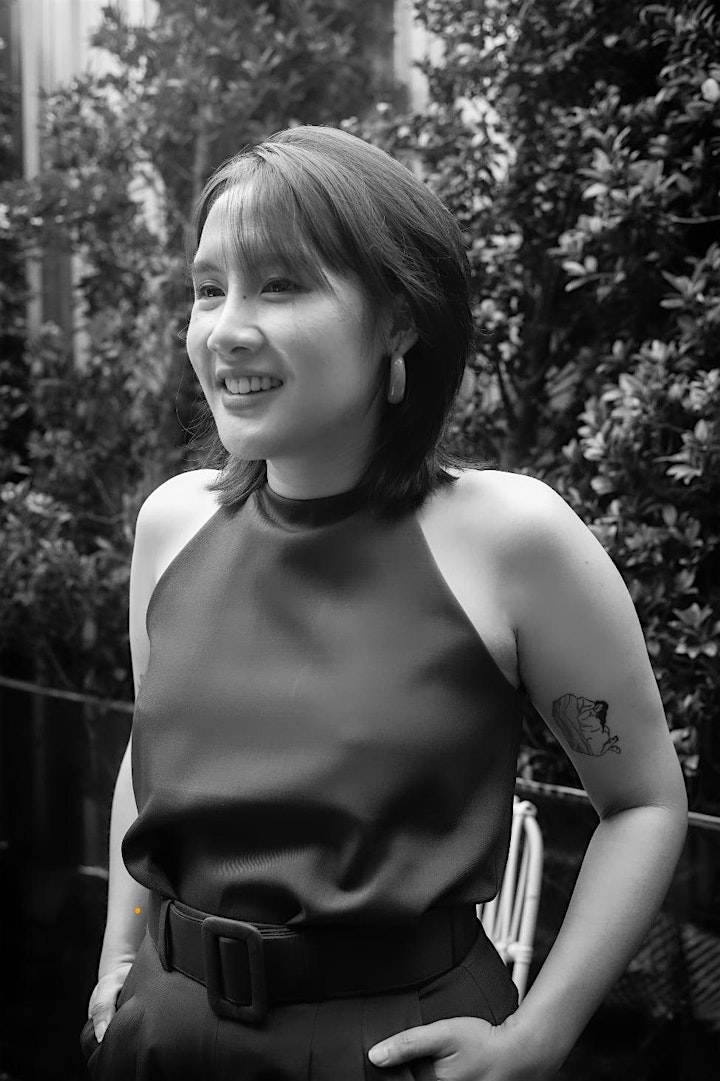 About Kittima Chareeprasit : Kittima Chareeprasit (1989, Chiang Mai, Thailand) received her MA in Curating and Collections from Chelsea College ofArts. She is a curator from MAIIAM Contemporary Art Museum in Chiang Mai, Thailand. Since 2016, she co-founded Waiting You Curator Lab focusing on curatorial approaches within contemporary art practices. Her interest lies in contemporary art and culture which revolve around critical history, social and political issues. She works on numerous projects with emerging and established artists within the realm of Southeast Asian art and its cultural context.
Her recent curatorial work includes House Calls, at 100 Tonson foundation, Bangkok (2020) Breast Stupa Cookery: the world turns upside down, at Nova Contemporary, Bangkok (2020) Temporal Topography: MAIIAM's New Acquisitions; from 2010 to Present at MAIIAM Contemporary Art Museum (2019), In search of other times: reminiscence of things collected, at JWD Art Space Bangkok (2019), Occasionally Utility at Gallery VER, Bangkok (2017), The Thing That Take Us Apart at Gallery Seescape, Chiang Mai (2017), Remembrance at Sri Prakat, Chiang Mai (2015). She also co-curated the Thai Arts Festival in Bournemouth, England (2015).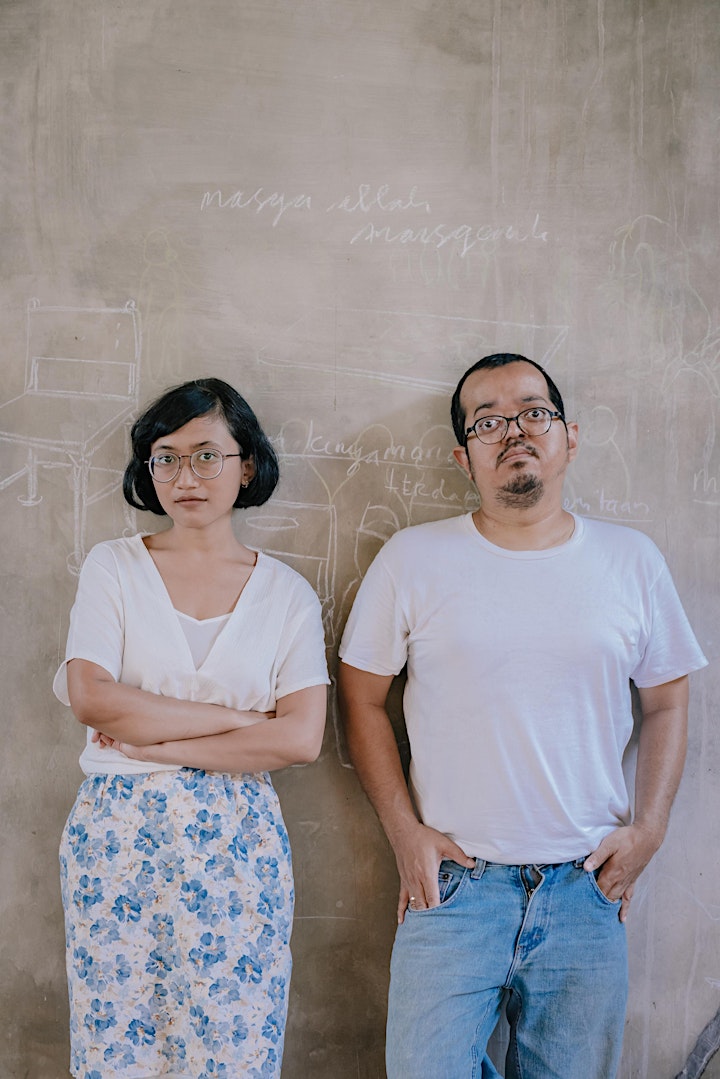 About LIR: LIR is an art institution turn curator collective consisting of Mira Asriningtyas and Dito Yuwono. LIR Space was initially established in 2011 as an art space in Yogyakarta - Indonesia with an aim to build a supportive and positive environment for artists. Over the years, the institutional format is perpetually renewed and LIR Space turn nomadic into LIR (curator collective). Together they were a fellow of RAW Academie: CURA (RAW Material Company - Dakar, 2019). LIR's projects are characterized by the multi-disciplinary collaboration and often-performative exhibition in order to foster continuous transgenerational transmission of knowledge, memory, and history. LIR's recent project including "Curated by LIR" exhibition series (KKF - Yogyakarta, 2018 - 2019); "Transient Museum of a Thousand Conversations" (ISCP - New York, 2020); and "900mdpl" (Kaliurang, 2017, 2019, & 2021), a long-term site-specific project in their hometown Kaliurang, an aging resort village under an active volcano Mt.Merapi in order to preserve the collective memories of the people and create a socially-engaged archive of the space. At the moment LIR is working on an online publication, symposium, and exhibition for the 3rd edition of Pollination (2020-2021)—a long-term collaborative exercise between different institutions across Southeast Asia initiated by The Factory Contemporary Arts Centre.
In their individual practice, Dito Yuwono is practicing as an artist focusing on the notion of collectivity, personal history as part of major historical narrative, and collective memory of a place. In the past five years, Dito did numerous residencies as part of his artistic practice at institutions such as The Northern Territory Center for Contemporary Art – Australia; Ruangrupa – Jakarta; Jatiwangi Art Factory – Indonesia; GOLEB & Het Wilde Weten – The Netherlands; and TIFA Working Studios – India. His work has been exhibited in Herbert F. Johnson Museum of Art – United States, Jimei X Arles International Photo Festival 2017, Cemeti Institute for Art and Society – Indonesia, ISCP New York – United States, among others.
Mira Asriningtyas works as an independent curator and art writer in Yogyakarta- Indonesia. She was a fellow of De Appel Curatorial Program 2016/2017 at De Appel Art Center - Amsterdam. Mira is especially interested in working on site-specific and multidisciplinary projects within the practice of everyday life. Some of her projects are "Poetry of Space" (Jakarta & Yogyakarta, 2014); "Fine (Art) Dining" (Lir Space – Yogyakarta, 2016); "Goodluck, See You After The Revolution" (UVA – Amsterdam, 2017) ; "Why is Everybody Being So Nice?" (De Appel Art Center and Stedelijk Museum – Amsterdam, 2017); and "Coming Soon" (exhibition and publication at the Fondazione Sandretto Re Rebaudengo - Turin, 2018) among others.

This event collaboration is part of Art Curator Grid's The Plus partnership digital series connecting curators and international arts organizations to explore resonant topics in contemporary arts and culture. The Plus aims to bring communities together and cultivate new ideas and collaborations.
About Art Curator Grid: Launched in 2019, Art Curator Grid is the first digital platform that connects an interactive, global community of curators, artists and institutions to share, connect and discover Contemporary Art. Art Curator Grid's growing community works together to make exhibitions and projects a reality through engaging content, intuitive software, supportive crowdfunding and access to global audiences. The centralized resource is a place where curators can build and present their work and institutions can effectively manage, promote and archive their programming.
In conjunction with the platform, Art Curator Grid launched Curtain, a new online independent magazine, which spotlights curators every other month.