Sales Have Ended
Ticket sales have ended
Questions? Please contact info@productized.co
Event Information
Refund policy
Contact the organizer to request a refund.
Eventbrite's fee is nonrefundable.
Sales Have Ended
Ticket sales have ended
Questions? Please contact info@productized.co
Productized 2020 Online Workshop
About this event
Conflict Resolution for People Who Hate Conflict
With Joshua Mauldin from Fractal
4-HOUR WORKSHOP LIMITED TO JUST 20 PARTICIPANTS
SEE ALL PRODUCTIZED VIRTUAL WORKSHOPS AND ALL DISCOUNTS
This is a special a half-day training workshop specifically designed for product managers and product owners from technology-powered product companies that want to dive very deep into the product role and learn the leading-edge product discovery practices from the very best technology-enabled product companies in the world.
The workshop
Conflict Resolution for People Who Hate Conflict
Remember the last time you (or your project) paid the price for avoiding a necessary, tough conversation because it was just too stressful? Maybe this person drastically overstepped, caused your project to nosedive, or you've had a lingering problem but don't know how to address it. As a product manager, how you address this can mean the difference between success and failure.
So let's empower you to have that conversation.
In this workshop, you'll learn a psychologically-safe, non-violent, and battle-tested framework that's been refined over the years. It's helped hundreds of others like you who were once conflict-averse. You'll master practical techniques to help you handle almost any scenario you'd encounter, complete with real-world examples and roleplay.
In your next tough conversation, you'll have a big toolbox at your disposal to help you get the message across clearly and hassle-free. And you'll see that embracing healthy conflict is the catalyst to building your best products and teams yet.
Key takeaways or outcomes
Learn a tactical framework to prepare for and have tough conversations
Know how to maintain psychological safety for both sides so you can keep talking even if it goes sideways
Understand how to get to the heart of the issue by asking the right questions
Gain an understanding of when it's not worth it to continue and how to proceed after that
To complete your workshop experience, attendees can book free one-on-one coaching for 15 minutes.
Workshop Agenda:
Timezone: WEST
2 pm - 1st part of the workshop (60 mins)
3 pm - BYO ☕ break (15 mins)
3:15 pm - 2nd part of the workshop (60 mins)
4:15 pm - BYO ☕ break (15 mins)
5 pm - workshop wrap-up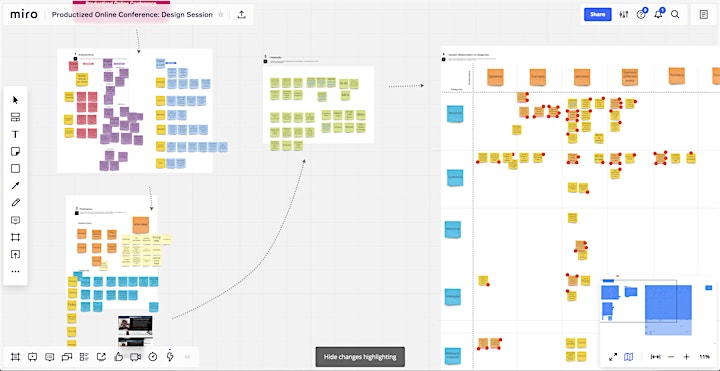 About the instructors
👨 Joshua Mauldin :
Joshua Mauldin is Head of Design at Fractal in Santa Monica and is an expert who speaks all over the world about conflict resolution. He is currently writing a book on the subject. He's also written and spoken extensively about design for Smashing Magazine, O'Reilly Media, and more. Joshua loves approaching design with as much curiosity and humanity as he can muster. Also, he's a big fan of dogs. Cats, too. But mostly dogs. He can be found online at joshuamauldin.com.
Who should attend
This workshop is designed specifically for:
Product Managers and Product Owners that want to learn how to be a truly strong product manager
Product Leaders responsible for building a strong product management and design organization
Founders and Startup CEO's that are playing the product role for their company
This session is also effective for Product/ UX Designers, User Researchers, Data Analysts and Engineering Leaders that want to learn how to work side by side with product management to create winning technology-powered products.
Notes
The workshops will be held online in English.
Each workshop is limited to 20 participants Zoom session.
All workshops are very intense half-days, but the intention is to provide an interactive learning opportunity for product managers and product leaders.
🤔 Frequently Asked Questions
Can I pay by invoice or Purchase Order (PO)?
Yes, we offer payment by invoice, just contact us at info@productized.co
What are the Productized invoice details for the PO?
Company Name: OCEAN STRATEGY Uni. Lda.
Address: Rua Academia das Ciências 24 2º Frt, 1200-004 Lisboa, Portugal
VAT Number: PT514642572
Do you charge VAT on tickets?
Yes. Productized is a registered privately owned company incorporated in Portugal. All tickets are subject to 23% VAT, under Portuguese CIVA tax law. You'll get an invoice from us a few days after you buy the tickets.
Can I buy the tickets if I don't know the attendees' names yet?
Yes, you can provide the details later, when you have a ready list of participants and we will change that for you. In case you forget, we keep track of the attendees' list so we will contact you before the event to confirm the names.
Are there discounts for Associations?
On top of any discount, we offer 10% off your ticket for Product, Startup, and Innovation based associations. To claim the discount you need to enter the promo code PRODMNGMT10 while selecting the tickets. If you have any doubts, just contact us at info@productized.co
What's your refund policy?
We provide a full refund up to 30 days before the event date. That means that you can buy now and get reimbursed except Eventbrite fee, in case your company does not authorize your trip or expenses.
What is your code of conduct?
Productized adopts the Ada Initiative code of conduct: our events are dedicated to providing a harassment-free conference experience for everyone, regardless of gender, gender identity and expression, age, sexual orientation, disability, physical appearance, body size, race, ethnicity, religion (or lack thereof), or technology choices.
Date and time
Location
Refund policy
Contact the organizer to request a refund.
Eventbrite's fee is nonrefundable.