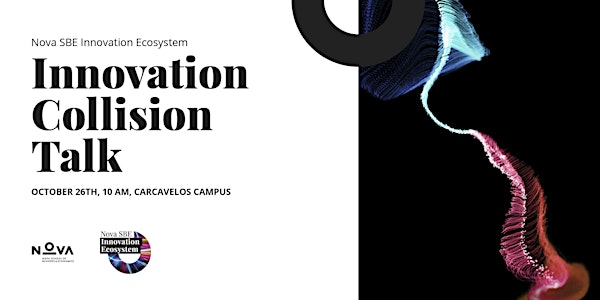 Collision Talks: Is the Creative Economy an Innovation Business?
Nova SBE Innovation Ecosystem is pleased to invite you to TIE 2022 - Talk 3
When and where
Location
Nova School of Business and Economics 1 Rua da Holanda 2775-405 Carcavelos Portugal
About this event
Every time we learn and act together, we make a tie. But here, TIE is for Transformation, Innovation, Education: the Nova School of Business and Economics Innovation Ecosystem welcomes you to take part in our TIE 2022 program, a set of sessions for us to exchange and build around these three fundamental pillars for a better and sustained economic development model.
Each activity has a specific focus: Knowledge transferring and intellectual property, Cybersecurity, Education and the Metaverse, Innovation Myths, Creative Industries, Business Analytics and more.
We are pleased to invite you to the third of a cycle of three talks, within the TIE 2022 program:
WEDNESDAY 26/10 » 10.00 am - 12.00 pm | @ Nova SBE Carcavelos Campus Main Gallery - 1st Floor
Collision Talks: Is the Creative Economy an Innovation Business?
The Collision Talks are all about diversity and freedom of thought. Neither drama nor absolute truths: we intentionally bring together people who might differ between them, to be constructively provoked by each other or by our questions (or rather the public's). In other words, it's about reinforcing Academia's and Nova SBE Innovation Ecosystem's role of nurturing our intellectual openness and cross-thinking for a more inclusive, considerate innovation development. Not to mention depolarizing views: we need meaningful collisions, more than ever.
In this session, we will approach different topis around creative economy and innovation business, such as:
_What is our guest's understanding of Creative Economy, and Innovation Businesses?
_Is the Creative Economy an innovation business after all? On the other hand, is the innovation business a creativity-based one?
_Where do they converge, and where do they not?
_How do our guests combine / balance such dimensions in their daily work?
_What is the role of Creative Economy and Innovation-related businesses in contemporary society?
_Are their impact outcomes, or their scalability potential, somewhat comparable?
_What should be the role of Education to improve people's creativity and innovation mindset? Which type of Education?
Panelists:
_André Miranda, Founder e CEO, Musiversal
_Manuel Lima, Head of Design, Interos Inc
_João Ricardo Moreira, Centre for Business Transformation Director, NOS
More Panelists TBC
Moderator:
Alisson Avila, Head of Applied Strategy, Nova SBE Innovation Ecosystem
Free entrance: your thoughts are the actual ticket!
Looking forward to meeting you there!
* Check out TIE 2022 full program here.