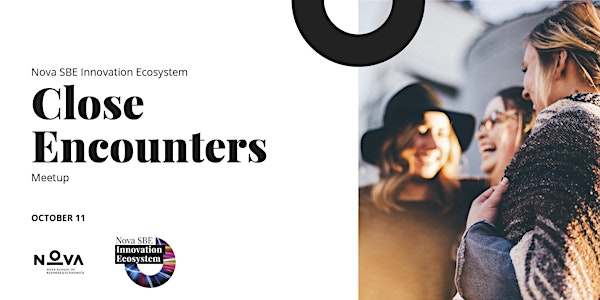 Close Encounters #1
Nova SBE Innovation Ecosystem is pleased to invite you to Close Encounters - our monthly meetup
When and where
Location
Nova School of Business and Economics 1 Rua da Holanda 2775-405 Carcavelos Portugal
About this event
Close Encounters are a monthly meetup for all the Nova SBE Innovation Ecosystem community.
We will meet every month, gathering all level ecosystem players to learn, share great stories, meet & greet at Nova SBE - Carcavelos Campus, in a space in which we want to promote close encounters and leverage our community of innovators, through casual conversations followed by networking and drinks.
We are pleased to invite you to the first Close Encounters Meetup:
TUESDAY 11-10 - 5:00 PM >> 6:30 PM | @ Nova SBE Carcavelos Campus Main Gallery - 1st Floor
"No one knows what it is, but it's going to be amazing!"
A conversation with O Benefício, around the intersection between innovation and art, between product and technology: the story of how a sustainable and medal winner Gin met a digital-art-piece NFT.
O Benefício, lives by the motto: "No one knows what it is, but it's going to be amazing!", and it was by this motto, through a context of discovery and innovation, based on the co-creation model of the brand, that O Benefício established a partnership with GinT (The Strongest Portuguese Gin) to meet the challenge and realize a differentiating product, in which hemp plays the role of vocalist.
Their Hemp Flower Gin, winner of a silver medal in the prestigious London Spirits Competition, was also the first product they dropped on Mintbase: when you acquire the Benefício NFT you are entitled to a unique physical piece, a Hemp Flower Gin, where your NFT Wallet Adress will be laser engraved.
Benefício's entry into blockchain and this new dimension of e-commerce is done in creative partnership with radio broadcaster and sonic experimentation musician Tiago Castro aka Acid Acid and Nuno Gervásio, screenwriter and digital creative, through a visual-digital-piece created especially for this NFT.
In this Close Encounter, we will have the chance to talk with Ricardo Nunes - Co-Founder of O Benefício, Tiago Castro aka Acid Acid - Radio Broadcaster and Sonic Experimentation Musician and, Nuno Gervásio - Screenwriter and Digital Creative, to learn more about their co-creation process, in a conversation moderated by Tiago Godinho, Head of Nova SBE Digital Experience Lab
Free entrance: your thoughts are the actual ticket!
Looking forward to meeting you there!