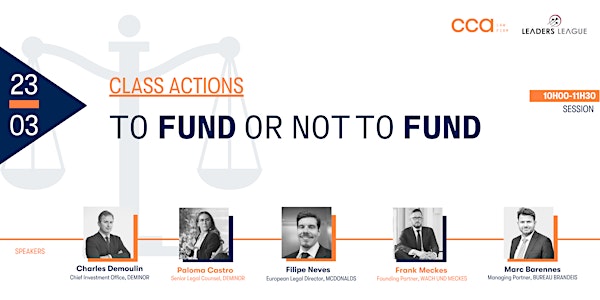 Class Actions | To Fund or not to Fund
On the 23rd of March, join us in this debate about the new regulation of class actions.
Date and time
Thursday, March 23 · 10 - 11am WET
Location
CCA Law Firm Edificio Diogo Cão, Doca de Alcântara Norte 1350-352 Lisboa Portugal
About this event
Due to the increasing number of third-party funded representative actions lodged before the courts, and considering the European Directive on representative actions for the protection of the collective interests of consumers, a debate about the new regulation of class actions is in order.
In light of this, Charles Demoulin, Chief Investment Office - Deminor, Paloma Castro, Senior Legal Counsel - Deminor, Filipe Neves, European Legal Director - McDonalds, Frank Meckes, Founding Partner - Wach Und Meckes and Marc Barennes, Managing Partner - Bureau Brandeis will be the speakers of this event, and will go through the pros and cons of Third Party Funding.
Rita Cruz, CCA Law Firm Partner, will be the moderator for this session.
The event will take place on the 23rd of March at CCA Law Firm (Edifício Diogo Cão, Doca de Alcântara Norte), with registration and Welcome Coffee scheduled for 9.30 am. The start of the session will be at 10 am, with the duration of 1H and time for Q&A.
Agenda
9:30 AM - 10:00 AM
Welcome-Coffee
10:00 AM - 11:00 AM
Roundtable
About the organizer
In a world updated to the second, we must be able to constantly adapt to change. CCA Law Firm relies on a responsive attitude of adaptability to several scenarios and activity areas.
We focus on the future and helping organisations to achieve the best, boldest, and most effective solutions for 70 years. Innovation is in our blood. Our culture helps us to take down barriers and stereotypes and create a great work atmosphere that attracts the best talents. We are brave enough to find new ways of adding value and know-how to our clients and partners.
We support innovation and work with people and companies driven by great ideas, regardless of their size or industry. Our clients are multinational companies, SMEs, and Startups supported by venture capital or even family businesses or private clients.
With offices in Lisbon and Porto and a network of partners in Europe, Latin America, and North America, our real location is near our clients.
We are a team of business-oriented professionals with a common goal: to change the way legal work is made.