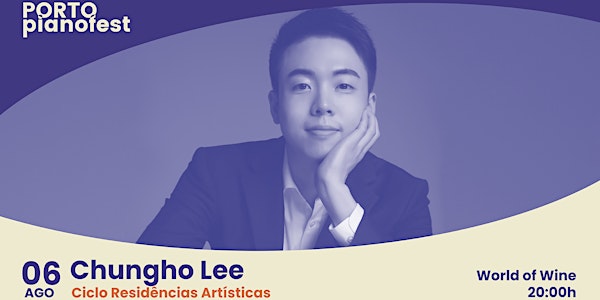 Chungho Lee, pianist—LIVESTREAM from Porto Pianofest
International talent, Chungho Lee, will be performing a program of Brahms, Scriabin, Granados, & Dutilleux as his first concert with PPF
Refund Policy
Contact the organizer to request a refund.
Eventbrite's fee is nonrefundable.
About this event
International talent, Chungho Lee, will be performing a program of Brahms, Scriabin, Granados, and Dutilleux, as his first concert with Porto Pianofest. Originally from South Korea, Chungho is currently completing studies at Northwestern University in the United States.
This is Porto Pianofest's second year of the prestigious Artists-in-Residency series, aimed at young pianists who come to Porto to prepare for future projects— recitals, competitions, recordings— to work with artist faculty and present their music to PPF's audience.
These are young virtuosi from around the world with brilliant careers ahead of them. Come meet and support the Artist Residencies participants!
------
O talento internacional Chungho Lee vai apresentar um programa de Brahms, Scriabin, Granados e Dutilleux, no seu primeiro concerto no Porto Pianofest. Originalmente da Coreia do Sul, Chungho está atualmente a concluir os estudos de doutoramento na Northwestern University, nos Estados Unidos.
Esta é a segunda edição da prestigiada série de Residências Artísticas do festival direcionadas a jovens pianistas que se deslocam ao Porto na preparação de projectos futuros - recitais, competições e gravações - num trabalho conjunto com o corpo docente do festival e apresentação da sua música ao público do Porto Pianofest.
São jovens virtuosos com brilhantes carreiras pela frente. Venha conhecer e apoiar os participantes das Residências Artísticas!
PROGRAM
Johannes Brahms (1833-1897)
Três Interlúdios, Op. 117
1.Andante moderato
2. Andante non troppo e con molto espressione
‍3. Andante con moto
‍
Alexander Scriabin (1872-1915)
Sonata No. 2, Op.19 em Sol sustenido menor, "Sonata-Fantasia"
I. Andante
II. Presto
Enrique Granados (1867-1916)
Goyescas, No. 1 "Los Requiebros"
Henri Dutilleux (1916-2013)
Sonata para piano
III. Coral e variações
BIO
O pianista Chungho Lee nasceu em Seul, República da Coreia. Aos 15 anos, tocou o seu primeiro recital solo no Kumho Art Hall em Seul. Apresentou-se em recitais solo e de câmara na Europa e na Ásia, incluindo o Chiang-Mai Music Festival, o Music Alp Festival e o Yeon-eum Piano Festival. Também se apresentou no concerto de estreia Chosun-Ilbo como um dos melhores alunos dagraduação na Universidade Nacional de Seul, a universidade mais reputada da Coreia. Além disso, ele se apresentou em muitos concertos públicos como pianista da Korea Army Band.É vencedor de vários concursos, incluindo Marian Garcia International Piano Competition, Thaviu-Isaak Piano Competition, Music Association of Korea Competition, Bechstein-Samik Piano Competition, Suri Music Competition, Seoul National Symphony Competition, Segye-Ilbo Music Competition, Seul Young Chamber Music Competition e Korea International Duo Competition.Estudou na Universidade Nacional de Seul concluindo a sua licenciatura.Completou o Mestrado em Música na Juilliard School sob a orientação do professor Matti Raekallio e Hung-Kuan Chen. Na Primavera de 2021, obteve o título de Mestre em Artes Musicais pela Yale School of Music. Completa actualmente o seu Doutoramento em Artes Musicais na Northwestern University com o professor Jose Ramon Mendez.