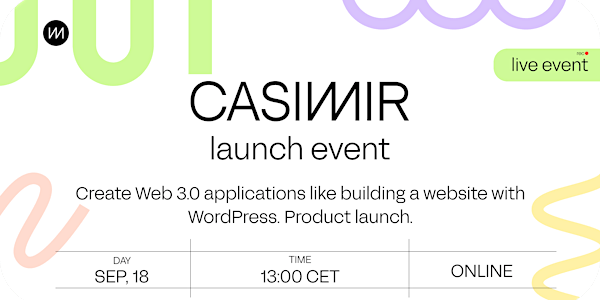 Casimir Launch Event
Create Web 3.0 applications like building a website with WordPress. Product launch.
About this event
September 18th 2022
13 pm–14:30 pm (Central Europe Time)
Online: https://www.youtube.com/watch?v=Vu3QNgqswa0
The idea behind the Casimir Launch event is to show live low-code, no-code solutions, and deploy NFT marketplace and reliability via sharing product results and plans for DEIP partners, Investors, NFT/Blockchain enthusiasts, DEIP community, and DEIP ambassadors.
We believe that Casimir is a unique framework that unites all these blockchains and provides a universal solution for the interaction of users within these platforms.
However, from a governance perspective, Casimir currently supports the governance model based on members' weights and pre-defined thresholds as extensions over multi-signature keys used in blockchain layer-1 solutions (Ethereum, NEAR). It, therefore, makes sense to make a live product launch to show how Casimir works, and present a special program by adding utility to blockchain tokens.
Goals:
- to present that by using the Casimir product - you can create your own applications for Web3
- show an easy-to-develop and fast-to-deploy Web3 Portal Builder
- add utility to the DEIP token by adding a special program for partners
About Casimir:
Casimir is a blockchain agnostic framework designed to operate with any layer-1 blockchain infrastructure. It represents a low-code constructor of the DEIP ecosystem intended for designing portals by users. Casimir acts as a middle layer between the blockchain and frontend applications with the primary purpose of building portals. It is made from a modular structure and enables a quick building of standalone applications and connecting them to the server side of DEIP. It provides essential functionalities (registrations, asset tokenization etc.) for web applications and all needed entity types (platform, data transfer models, data service packages, functional modules).
The key principles of Casimir are:
Code composition
Data composition
Entity composition
Abstraction
Event Schedule
XX Opening: Welcome and introduction
XX What is Casimir
XX How NFT marketplace works – Delivering NFT marketplace
XX DEIP Future plans
XX CASIMIR is online for everyone - in LIVE
XX Closing: Q/A session
Website: https://casimir.deip.world/