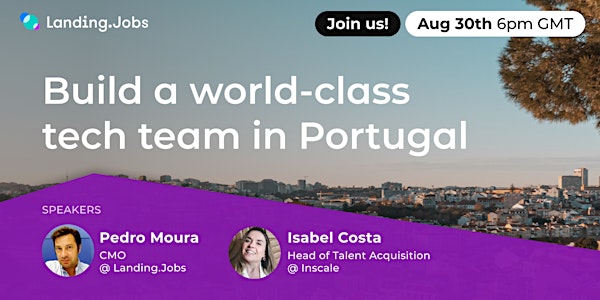 Build a world-class tech team in Portugal
Build a world-class tech team in Portugal
About this event
Have you ever considered Portugal to scale your tech team?
Yes, thinking about it, but don't know what the next step should be.
Yes, but still not sure why.
No, but know a few good examples that did it.
No, but want to know more.
If you answered one of the options above, then this fireside chat is for you. Join us on August 30th at 6pm WEST/ 1pm ET/ 10am PT and get all the information and resources you need to build your tech team in Portugal.
📢 About this event:
A big number of international companies have already set up their tech hubs and development centres in Portugal, due to its strategic location, unique cultural environment, open working culture, affordable costs and safety.
Portugal is ready to welcome new businesses and yours could be next. Learn why and how to build your tech team in the country on August 30th in a fireside chat with Pedro Moura and Isabel Costa.
Last year, we launched the Hiring in Portugal e-book and it paved the way for a lot of those companies to go from planning to action, without any questions. This year, it's time we share with you updated data and insights for you to prepare your next move.
📢 Speakers
Pedro Moura is currently CMO as Landing.Jobs, working to tackle the Tech Talent gap in the international market and support the Globalisation of Tech Work.
He's a computer science engineer from Instituto Superior Técnico, and has been working since 1999 as an executive, researcher, consultant, manager, director, adviser, entrepreneur, investor and enthusiast of technology and innovation, with a track record of creating, funding and managing innovative and successful products, businesses and companies across industries and technologies, both in the Big Corp and Startup worlds.
Working in IT recruitment for a few years now, Isabel is now Head of Talent Acquisition for Portugal and RaaS at Inscale. Her favorite thing about tech profiles is the challenges they entail. She is passionate about Personal Branding and Mentoring. Her degree in Political Science probably didn't prepare her for the IT world but it certainly taught her a thing or two about communication and branding!
📚 About the 'Hiring in Portugal' e-book
The 'Hiring in Portugal' e-book is the go-to guide for anyone who wants to hire and build tech teams in Portugal, and even set up base in the country. It has everything you need to know, from the culture and lifestyle to the Portuguese tech industry and legal obligations.
This is some of what you'll find inside:
Insights on Portuguese culture & lifestyle
Data on the tech talent market and salaries
Tips and tricks to hire tech talent in Portugal
How to set up your IT team or tech centre in Portugal
Who can help you along the way
Legal, Tax, Visa, Incentives and other details in one place
Why Portugal is a top destination to extend your IT capacity
The 'Hiring in Portugal' book is supported by: AICEP | Startup Portugal | Invest Lisboa | Invest Porto | Revista Pessoas