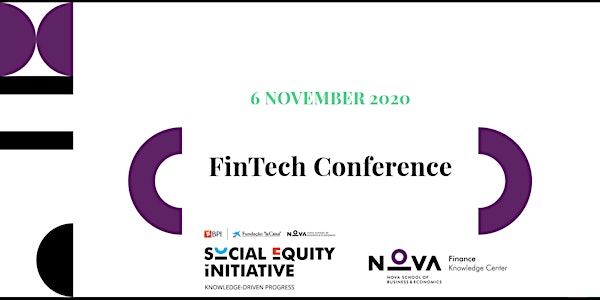 BPI-Fundação La Caixa & Nova SBE FinTech Conference
Online FinTech Conference
About this event
In recent years, FinTech, or Financial Technology, has been rapidly developing and reshaping business practices, in the context of what is often called the fourth industrial revolution, or the digital revolution. The advances brought about by FinTech in decentralization, disintermediation, and digitalization are disrupting the financial services industry. Given its potential to have a dramatic impact on the economy, it is important to further our understanding of FinTech based on rigorous theory and empirical research.
The one-day conference program consists of 5 papers covering new and emerging topics in FinTech, including bitcoin, initial coin offerings, crowdfunding, and the impact of the new technologies on the banking system. The conference also includes two FinTech reports focused on the Iberian market and on emerging countries. We hope to bring researchers active in these fields together, facilitate communications on frontier research, and advance further studies.
The FinTech Conference is part of the Social Equity Initiative, a partnership between "la Caixa" Foundation, BPI and Nova School of Business & Economics. This partnership aims to promote the social sector in Portugal in the long run, sketching a portrait of the sector and developing research and empowerment programs to support Portuguese social organizations.
In total, the Social Equity Initiative involves the creation of seven projects and two Chairs dedicated to the social sector. The FinTech Initiative is one of the 7 projects, lead by the Nova SBEFinance Knowledge Center. Among other activities, the Online FinTech Conference is the first public event that rises from this initiative.
More information about the Social Equity Initiative here: https://www2.novasbe.unl.pt/en/about-us/special-projects/social-equity-initiative/social-equity-initiative
Zoom link to access the Conference will be sent by email, after registration.
See program below: