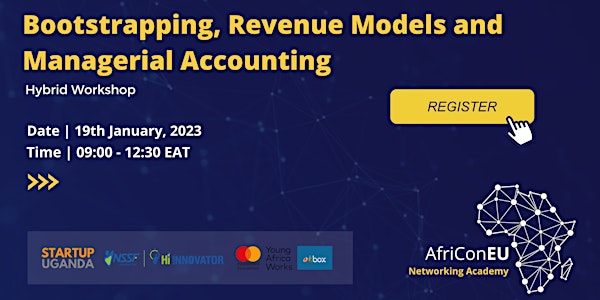 Bootstrapping, revenue models and managerial accounting
Objective: The aim of the workshop is to help DIHs develop their financial support services.
When and where
Location
Outbox Hub Lumumba Avenue Kampala, Central Region 11211 Uganda
About this event
Overall idea: Understanding the fundamentals of revenue models and financial control, along with an overview of the bootstrapping method of funding a project or business/start-up.
Overview: Participants will learn by engaging with a business simulation that we will use to create a big-picture understanding of finance and how money flows in a business. Participants will be organized in groups to run a simulated business in a competitive environment - setting prices, monitoring cash flow, making operational improvements, and planning for growth as well as profitability. They will make business decisions and learn how to use financial statements as a tool for monitoring the performance of their businesses. The simulation we plan to use develops the business acumen of the participants in an interactive and fun way.
Participants will gain a big-picture understanding of business, finance terminology, working with financial statements and more. The participants will have complete control of their game board companies making decisions related to production, marketing, sales and financing as they see the impact of those decisions on the business. They will also be able to identify the internal and external forces that drive profitability and cash flows in a business.
Participant Tools & Resources: Financial Management Workbook, the workbook includes the following tools;
Financial Statement Templates
Monthly Financial Reconciliation Checklist
Budgeting and Analysis Template
Bookkeeping Template
Loan Eligibility Assessment