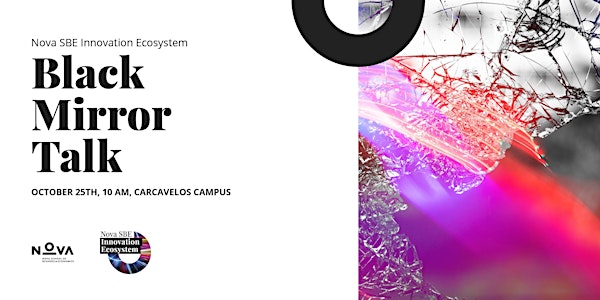 Black Mirror Talk: Web 3 and the future of Education
Nova SBE Innovation Ecosystem is pleased to invite you to TIE 2022 - Black Mirror Talk
When and where
Location
Nova School of Business and Economics 1 Rua da Holanda 2775-405 Carcavelos Portugal
About this event
Every time we learn and act together, we make a tie. But here, TIE is for Transformation, Innovation, Education: the Nova School of Business and Economics Innovation Ecosystem welcomes you to take part in our TIE 2022 program, a set of sessions for us to exchange and build around these three fundamental pillars for a better and sustained economic development model.
Each activity has a specific focus: Knowledge transferring and intellectual property, Cybersecurity, Education and the Metaverse, Innovation Myths, Creative Industries, Business Analytics and more.
We are pleased to invite you to the second of a cycle of three talks, within the TIE 2022 program:
TUESDAY 25/10 » 10.00 am - 12.00 pm | @ Nova SBE Carcavelos Campus Main Gallery - 1st Floor
Black Mirror Talk: Web 3 and the future of Education
The Black Mirror Talks, inspired by the homonymous TV series, are about exploring, and imagining future scenarios where technology and the digital culture embraces an even deeper transformational effect – could we say dystopian? – in society and businesses. It's a specific debate, promoted by Nova SBE Innovation Ecosystem from time to time, not to celebrate tech per se but rather to envision and conjecture direct or unintended consequences of such tectonic shift in our life.
Panelists:
Pedro Homero, HR Specialist
André Costa, Head of Growth, NodeReal
André Pinho, Head of ELO, Nova SBE
Moderator: Tiago Godinho, Head of Nova SBE Digital Experience Lab
Free entrance: your thoughts are the actual ticket!
Looking forward to meeting you there!
* Check out TIE 2022 full program here.