Informações do evento
Política de reembolsos
Reembolsos até 1 dia antes do evento
Amigos que vão participar
Descrição
Design Thinking is a human-center problems solving methodology for creating innovative product/service/process solutions (Case Study - Stanford d.school).
The Design thinking 3D Workshop is an intense and energetic way that will inspire you to co-create innovative solutions with a multidisciplinary team for a real project.
We believe we learn best when we are in action and working collaboratively.
What are you going to learn
- To know and apply the methodology of design thinking in a real project
- Learn to use different tools to create innovative solutions
- Learn the use and importance of divergent and convergent thinking
- Learn by doing not being afraid to fail
- Working in multidisciplinary teams in a collaborative way
For whom
- This workshop is for all those who are curious about knowing or deepening their knowledge in the practice of Design Thinking
- For those who have an idea/project and want to use a human-centered approach to innovate, prototype and test with their users
If you are interested we will schedule a diagnostic meeting to identify challenges you can work on during the workshop (contact ola@wecount.pt for more info).
No prior knowledge about Design thinking is required.
Program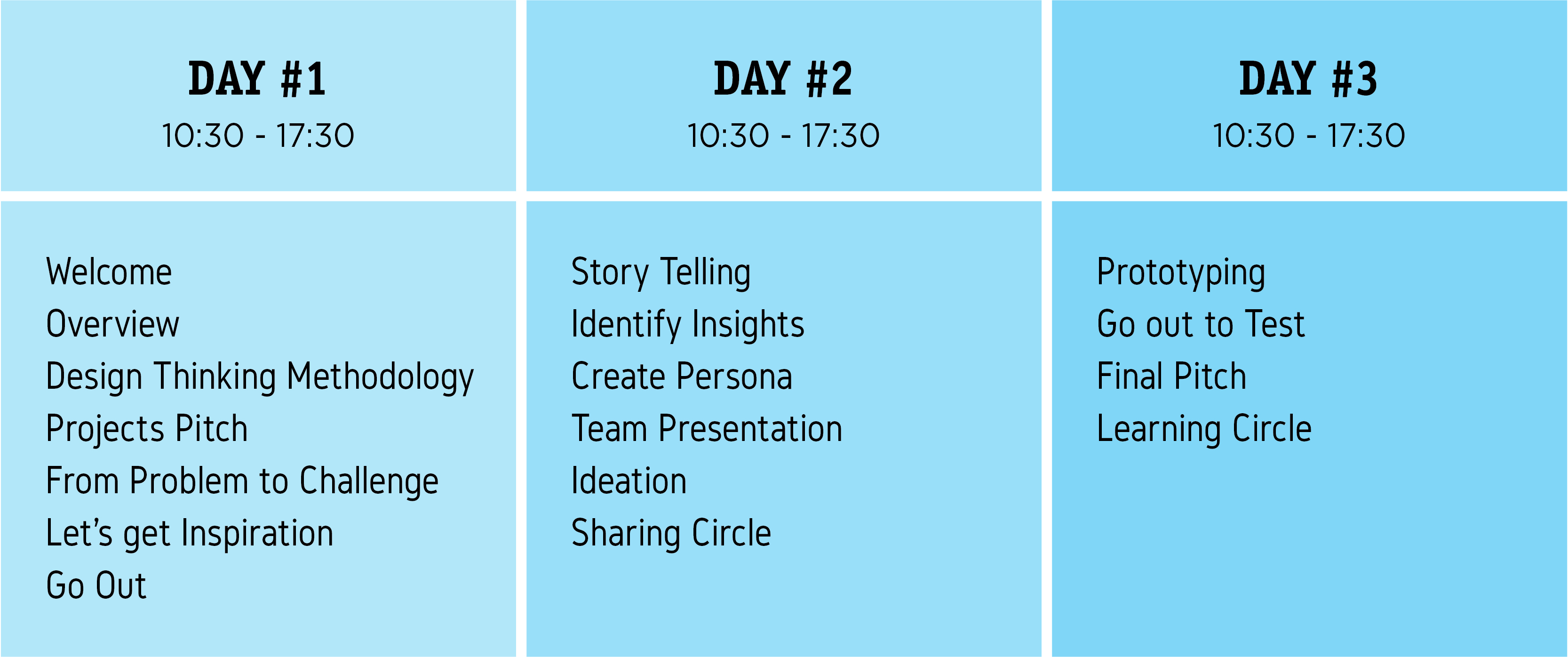 This workshop will be given in english unless all participants understand portuguese.
What they say about us
"Good workshop, very relaxed environment and a strong pratical component... Creativity, willlingness to do different things... This week we use part of the concepts in a broad meeting for all employees."
Ivo Barros | FUJITSU
"During the workshop I felt challenged to think out of the box... After the workshop we reformulated the inicial concept of the Startup to be in accordance with what travelers are looking for and simultaneously the locals are available to offer."
Rita Costa | LOCAL EYES LISBON
Who we are

As a designer develops her activity in Advertising and Comunication Design.
It follows the path as an entrepreuneur, engaging in projects linked to local development and sustainability working in multidisplinary teams.
At the same time develops activities related to body and movement as a form of expression and creativity.

Management backgroud with experience in FCMG, retail and services in Sales area, HR and Training. Its action is human-centered focus and the development of their skills and motivation through collaborative methodologies to inhance the impact of their projects.
Believe that life is an Adventure!
Check out a video of one of ours workshop here!
COMMON QUESTIONS
Can I bring my idea/project to work during the workshop?
Yes, you can. contact Teresa Almeida (938311240) to schedule a diagnostic meeting where we'll identify the challenges that you can work on through the workshop.
The number of projects to be worked on is limited and is adjusted to the number of participants in order to ensure work teams per project.
What are my transportation/parking to get to and from the event?
We like to start and ended on time our workshops so we suggest you arrive at the venue 15 to 30 minutes before.
You can came by Metro (green line) to Martin Moniz station and then follow the tram line on foot.
If you came by car you can park in Martin Moniz park and take the same route on foot.
How will be the meals?
We invite you to bring samething to share in the breaks, we'll offer coffe and tea.
For the lunch there is the possibility of ordering vegetarian and organic food if there is the minimum of orders. You can always choose to bring your meal or go to one of the restaurants in the neighborhood.
Any question don't hesitate to contact us:
Teresa Almeida
938 311 240






Data e hora
Localização
Política de reembolsos
Reembolsos até 1 dia antes do evento