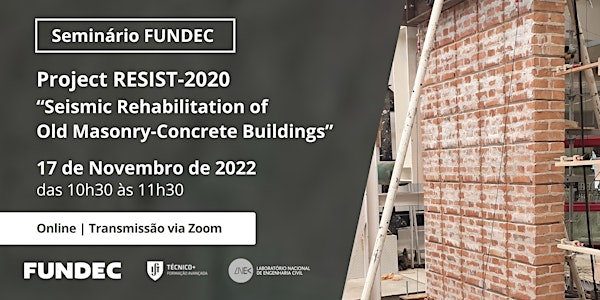 Seminário: Seismic Rehabilitation of Old Masonry-Concrete Buildings
Seminário FUNDEC
Acerca deste evento
Project RESIST-2020 – "Seismic Rehabilitation of Old Masonry-Concrete Buildings".
Shear strengthening of old brick masonry walls with stainless steel twisted steel bars.
Masonry-concrete composite buildings, which are vulnerable to earthquakes, normally comprise load bearing brick masonry walls which partially support the concrete slabs. In the event of an earthquake, these walls are demanded with horizontal loading and, consequently, develop in-plane shear forces and corresponding deformations. As so, a global seismic strengthening strategy for this type of buildings should include the analysis of the behaviour of these brick masonry walls and the definition of a strengthening system that may increase their strength and/or their ductility and capacity for energy dissipation.
In this seminar, a study will be presented where a reinforcement system of brick masonry walls was applied, based on near surface mounted stainless steel twisted steel bars, in different layouts. The study included a comprehensive experimental campaign, from the material properties determination to the overall walls' behaviour analysis, and numerical studies aimed at reproducing the experimental behaviour.
The study was supported by FCT through the project PTDC/ECI-EGC/30567/2017 - "RESIST-2020 - Seismic Rehabilitation of Old Masonry-Concrete Buildings"
The seminar will consist of a 30-minute presentation of the study carried out, followed by a 30 minute discussion, open to all participants.
The participation is free but subjected to previous registration.
Lecturer:
Dr. Armando Demaj (Epoka University, Albania): Experienced civil engineer and lecturer with a demonstrated history of working in the construction industry and higher education. Degree in Structural Engineering (B.Sc. + M.Sc.). Strong education professional committed to the ongoing PhD studies focused in the structural behavior of masonry buildings at the Instituto Superior Técnico, Universidade de Lisboa, Lisbon, Portugal.
Organization:
Prof. João Gomes Ferreira (IST), Prof. António Sousa Gago (IST) e Doctor Ana Isabel Marques (LNEC).
For more information:
fundec@tecnico.ulisboa.pt