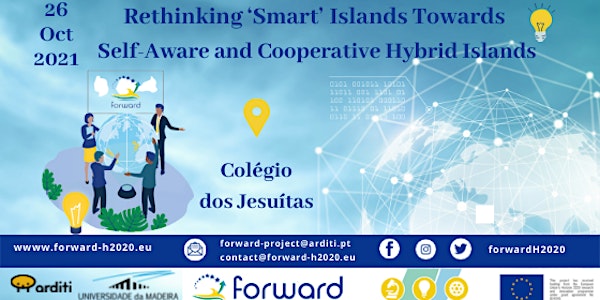 Rethinking Smart Islands Towards Self-Aware and Cooperative Hybrid Island
Informações do evento
Localização
Colégio dos Jesuítas do Funchal
Rua dos Ferreiros Estrada
9000-082 Funchal
Portugal
Rethinking 'Smart' Islands Towards Self-Aware and Cooperative Hybrid Islands
Acerca deste evento
No âmbito do projeto FORWARD – "Promover a Excelência da Investigação nas Regiões Ultraperiféricas Europeias" (https://forward-h2020.eu/), a Universidade da Madeira (UMa) e a ARDITI estão a organizar um Seminário sobre a Excelência Científica em Investigação, intitulado "Rethinking 'Smart' Islands towards Self-Aware and Cooperative Hybrid Islands" dia 26 de Outubro de 2021, a ter lugar no Edifício da Reitoria da Universidade da Madeira (UMa), no Colégio dos Jesuítas, com vista a estabelecer a simbiose entre Human-Technology-Environment (o evento será em inglês, pode consultar o programa aqui).
O evento focar-se-á numa sessão de perguntas/respostas com o intuito de abordar e explicar a visão geral, apresentando conceitos e abordagens e aplicação de "lessons learned" com cidades inteligentes.
Consulte o resumo da sessão do professor Norbert Streitz - Keynote Abstract: Rethinking 'Smart' Islands towards Self-aware and Cooperative Islands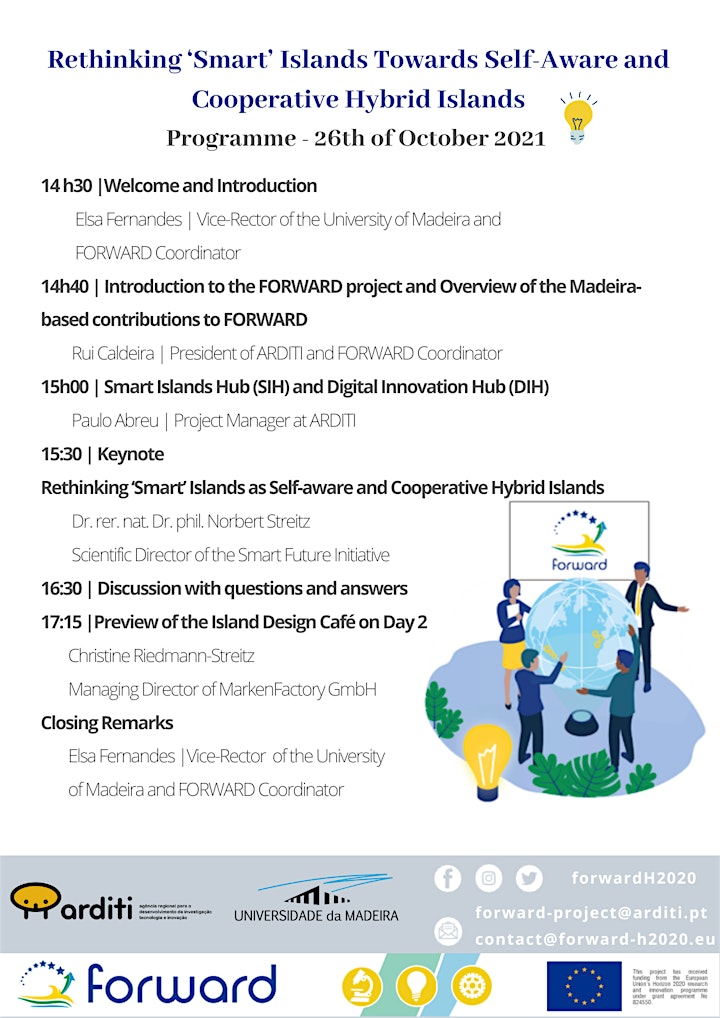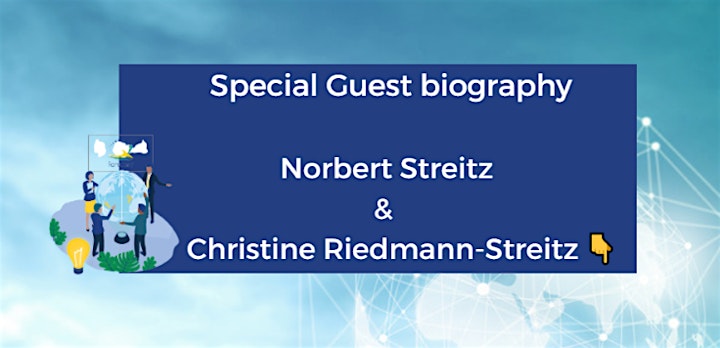 Norbert Streitz - Keynote speaker Biography
Dr. rer.nat. Dr. phil. Norbert Streitz (Ph.D. in physics, Ph.D. in cognitive science) is a Senior Scientist and Strategic Advisor with more than 35 years of experience in information and communication technology. Founder and Scientific Director of the Smart Future Initiative launched in 2009. From 1987-2008, he held positions as Deputy Director and Division Manager at the Fraunhofer Institute IPSI, Darmstadt and had joint teaching appointments at the Department of Computer Science, Technical University Darmstadt for more than 15 years. Before Fraunhofer, he was Assistant Professor at the Technical University Aachen (RWTH), where he founded and managed ACCEPT (AaChen Cognitive Ergonomics ProjecT). At different times of his career, he was a postdoc research fellow at the University of California, Berkeley, a visiting scholar at Xerox PARC, Palo Alto, and at the Intelligent Systems Lab of MITI, Tsukuba Science City, Japan.
Norbert has published/edited 32 books/ proceedings, 2 special issues of journals and authored/co-authored more than 160 papers presented at peer-reviewed national and international conferences and in journals or as invited book chapters. (Google Scholar h-index = 41, i10-index = 82 and 7500+ total citations). https://www.smart-future.net/publications/
His research and teaching activities are determined by a strong interdisciplinary approach and cover a wide range of areas: Cognitive Science, Human-Computer Interaction, Hypertext/ Hypermedia, Computer-Supported Cooperative Work (CSCW), Ubiquitous Computing, Ambient Intelligence, Artificial Intelligence, Interaction and Experience Design, Privacy by Design, Hybrid Worlds, Smart Manufacturing/Industry 4.0, Autonomous Driving, Smart Cities and Smart Airports.
Norbert was principal investigator and manager of many projects funded by the European Commission and industrial as well as national and international funding agencies. Reviewer and evaluation expert for the EC, member of Editorial Boards of international journals and Advisory Boards of research institutes in Europe and Asia, senior advisor, and consultant. Norbert is regularly invited as a keynote speaker at international commercial as well as scientific events (http://www.smart-future.net/events-and-talks).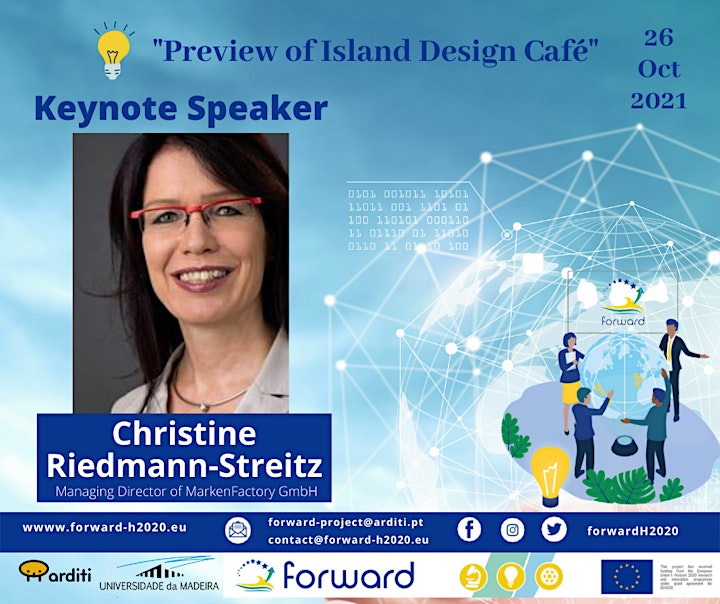 Christine Riedmann-Streitz - Keynote speaker Biography
Christine Riedmann-Streitz is the Managing Director of MarkenFactory GmbH (the Brand, Innovation and Change company).
She is a certified coach, trainer, and consultant with long-time experience as an executive in top management positions in different industries before she founded MarkenFactory in 2010. She conducts workshops and trainings, coaches, and advises national and internationally operating companies as well as public institutions on innovation and change, brands and identity, resilience, and leadership in the digital age, drawing also on insights from the neurosciences. Applications areas are, e.g., new hybrid work environments in different industries, participatory design and identity for smart cities and smart regions.
Christine is also a long-time lecturer teaching at various German universities, e.g., Goethe University (Frankfurt am Main) and working with students on current environmental, societal and industry projects.
Christine is also active as a keynote speaker, panelist, and moderator (https://markenfactory.com/getinspired/vortraege/), a long-time member of the Program Board of the International Conference on Design, User Experience and Usability (DUXU), now in its 11th edition as DUXU 2022 in June 2022 (https://2022.hci.international/duxu) with previous editions in Orlando, Las Vegas, Vancouver, Toronto, etc. Christine initiated and is responsible for the Design Café at the DUXU conferences. She also published on her topics of expertise in the DUXU proceedings and in other publication outlets (https://markenfactory.com/get-inspired/publikationen/).
Data e hora
Localização
Colégio dos Jesuítas do Funchal
Rua dos Ferreiros Estrada
9000-082 Funchal
Portugal