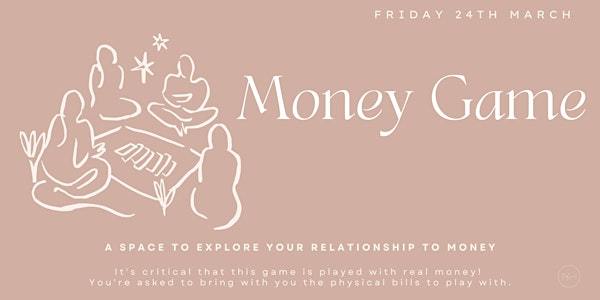 Money Game Lisbon
Money Game - It's critical that this game is played with real money! You're asked to bring with you the physical bills to play with.
Data e hora
Sex, 24 de mar de 2023 10:00 - 12:00 WET
Localização
Lisbon In a piece of heaven in Lapa 0000-000 Lisbon Portugal
Política de reembolsos
Entre em contato com o organizador para solicitar um reembolso.
A taxa de Eventbrite não é reembolsável.
Acerca deste evento
Invented at the Findhorn Community in Scotland, the Money Game has been played by many different groups around the world as a way to help us think about, and deconstruct, our relationship to money.
Have you thought about, what money really represent to you? We have a lot of feelings about how much money we have and don't have, how much money other people have and don't have...
But what does money really mean? How does it relate to feeling valued or having true wealth?
There is a playful way that we can explore our attitudes to money through a game!
As a personal experience in a group setting the Money Game is never the same, but varies each based on what all participants bring to the table and where you are at personally. Your experience is shaped by your own relationship to money, the good & bad qualities you attach to it and the histories & imagined futures you associate with it. While this can surface discomfort and painful emotions for some, it also creates fertile ground for individual & collective growth.
How it works
In the 2-hour experience we will play several rounds of a game in a group (8 to 15max), interspersed with dynamics, journaling and reflective dialogue you will be able to discover your relationship to money in different ways.
For the Money Game, since it's critical that this game is played with real money, the participants will be asked to bring physical bills (notes in Euro) to play with, an amount that puts you on the "edge".
Take a few minutes to feel what this amount might be for you - it is essential for you to have a significant experience. People have played anywhere from €10 - €500.
"This game reveals so much more than you can imagine, it tells you about your ancestor's heritage and also your legacy. It's a journey through time." Audrey Hespel-Campus, Decathlon
- Date & Time -
Friday 24th March
10am to 12pm
- Location -
Lapa in Lisbon, address sent upon confirmation
- Contribution -
15€ to play the game
Look forward to playing the game together!
Love Mar Michelle