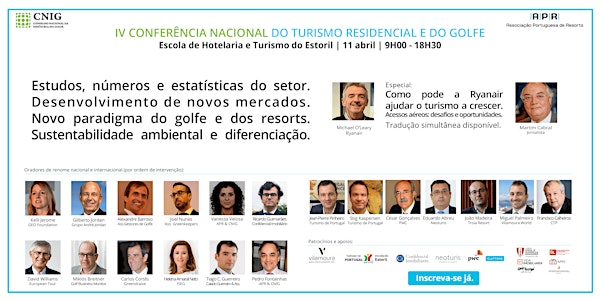 IV National Conference on Residential Tourism and Golf
Localização
Escola de Hotelaria e Turismo do Estoril
Av. Condes de Barcelona
2769-510 Estoril
Portugal
Política de reembolso
Reembolsos até 7 dias antes do evento
As vendas fecharam
A venda de bilhetes terminou
Thank you for your registration. We look forward to meet you at the Conference!
Descrição
The Conference Program is now available!
In Portugal, the synergy between golf and residential tourism has attracted billions of euros in foreign investment, taxes, services and consumption, and has created and maintained tens of thousands of jobs.
At the National Conference on Golf and Residential Tourism, entrepreneurs, and public and private institutions are invited to take stock of the initiatives undertaken throughout the year and planned in the short and medium term.The market situation will be assessed and also the measures which should continue to support the rapid growth of national competitiveness in these fields.
The conference will run in Portuguese and English, with simultaneous interpretation. This year's program includes nationally and internationally renowned speakers for a renewed debate on the contribution of Residential Tourism and Golf to the development of Portugal and on the the challenges and priorities of these strategic sectors.
This is a unique opportunity for networking, exchange of experiences and knowledge, in direct interaction with national and foreign industry leaders from the public and private sectors.
Eduardo Abreu

Neoturis

Partner

Alexandre Barroso

Associação de Gestores de Golfe de Portugal

Presidente

Miklós Breitner

Golf Business Monitor

Founder & CEO

Martim Cabral




Jornalista

Francisco Calheiros

Confederação do Turismo Português

Presidente

Carlos Cortês

Greendraive

CEO

Pedro Fontainhas

APR & CNIG

Diretor Executivo

César Gonçalves

PwC

Partner

Tiago Caiado Guerreiro

Caiado Guerreiro & Associados

Senior Partner

Ricardo Guimarães

Confidencial Imobiliário

Managing Partner

Kelli Jerome

GEO Foundation

Executive Director

Gilberto Jordan

Grupo André Jordan

CEO

Stig Kaspersen

Turismo de Portugal

Director

João Madeira

Troia Resort

Diretor

Helena Amaral Neto

ISEG - Lisbon School of Economics and Management

Luxury Executive Course Coordinator

Joel Nunes

Associação Portuguesa de Greenkeepers

Presidente

Michael O´Leary

Ryanair

CEO

Miguel Palmeiro

Vilamoura World

Director

Jean-Pierre Pinheiro

Turismo de Portugal

Director

Vanessa Velosa

APR & CNIG

Secretary General

David Williams

European Tour

Chairman