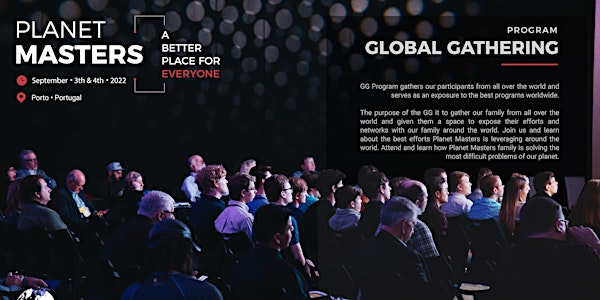 International Conference Planet Masters - GLOBAL GATHERING
Our International Conference is having participants from all over the world. Join Us for an Amazing Event on March 4th 2023.
Data e hora
Sáb, 2 de mar de 2024 01:00 - 11:00 PST
Política de reembolsos
Entre em contato com o organizador para solicitar um reembolso.
A taxa de Eventbrite não é reembolsável.
Acerca deste evento
Our community is growing and becoming stronger and more motivated every single day. With your support we aim to reach everyone on the planet.
Planet masters mission includes educating everyone around the planet for the most pressing problems faced by humanity today. Solving those problems will generate tremendous wealth and will most of all generate a better planet. We empower our members to masters the tools of change for transforming our planet. Some of those tools are technological in nature. In our educational programs you will find a global group of like-minded people, you will find future partners, and you will be refreshed with an unshakeable hope that we can do it together. We can improve our world and make our planet a better place for everyone. Your collaboration and participation in our events is a key part of our strategy. Together we will make this planet a better place for everyone.
We believe that together, with your support, we can help solve any of the current global problems. We believe that together, with every single one of you, we will have the capacity to shape the future of humanity and make this our planet a better place for everyone. We would like to finish this message with an sincere "Thank You"… We are honoured to have you with us… Together we will accomplish our most ambitious goals.
Website: https://planetmasters.net/