Descrição
The Conference

The business association COTEC Portugal, the Portuguese National Center for Cybersecurity, the World Portuguese Network and the University of Maryland Baltimore County are co-organizing the conference "Innovation Meets Cybersecurity: The Public-Private Cooperation Challenge".
This conference brings together international experts, companies, public decision-makers and academia in order to discuss the importance of cooperation in the conciliation of the benefits of digital innovation and the risks stemming from cyber attacks.

Regarding this theme, two pieces of European legislation have been put into practice that will be central to firms' activity. The Directive on Security of Network and Information Systems (NIS), adopted in August 2016, is the first piece of EU-wide legislation on cybersecurity. The General Data Protection Regulation (GDPR) harmonizes data privacy in Europe and will be enforceable from 25 May 2018 on, with high penalties for no compliance.
---
Topics
• Understanding the novel risks of digital disruption in value chains
• Managing the investments in cybersecurity strategies (training, tools, 'bring your own device' and 'air gapping' policies)
• Developing a culture of security in all areas of the organization
• Discussing practices of embedding cybersecurity principles in digital innovation
• Examining barriers and inhibitors to public-private cooperation and governance mechanisms and good practices of global value chains


---
Speakers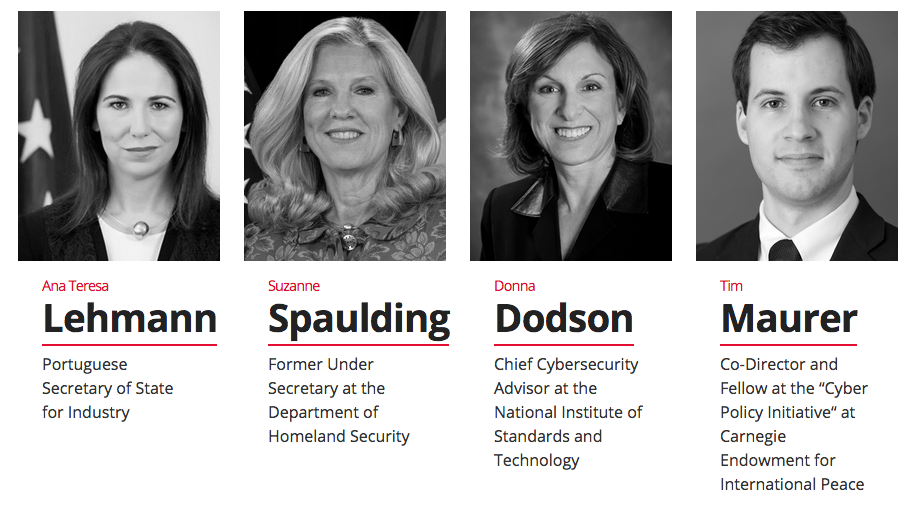 ---
Preliminary Program
13.30 – 14.10 CHECK-IN & REGISTRATION
14.10 – 14.30 WELCOME AND INTRODUCTORY REMARKS
Isabel Mota, Calouste Gulbenkian Foundation
Francisco de Lacerda, COTEC Portugal
Filipe de Botton, World Portuguese Network
António Moreira, University of Maryland Baltimore County
14.30– 16.00 PANEL 1: Global Innovation Networks: Making the business case for cybersecurity
Keynote: Suzanne Spaulding, Former Under Secretary at the Department of Homeland Security
Panel Discussion:
Manuel Lopes Rocha, PLMJ (Technical Moderator)
Fávio Nunes, ECO (Moderator)
Suzanne Spaulding, Former Under Secretary at the Department of Homeland Security
Anupam Joshi, University of Maryland Baltimore County
Valentim Oliveira, SIBS
Luís Costa, Siemens
16.00 – 16.30 NETWORKING BREAK
16.30 – 18.20 PANEL 2: Governance of Public-Private Cooperation: Progress and challenges
Keynote: Donna Dodson, Chief Cybersecurity Advisor at the National Institute of Standards and Technology
Panel Discussion:
António Gameiro Marques, CNCS (Technical Moderator)
António Costa, ECO (Moderator)
Donna Dodson, National Institute of Standards and Technology
Agustín Muñoz-Grandes, S21sec
Helena Trapp Barroso, Morais Leitão, Galvão Teles, Soares da Silva & Associados

Raquel Brízida Castro, Universidade de Lisboa
Toward a Global Norm Against Manipulating the Integrity of Financial Data

Keynote: Tim Maurer, Co-Director at the Carnegie Endowment for International Peace
18.20 – 18.30 CLOSING
Ana Teresa Lehmann, Secretary of State for Industry (TBC)
---

Organizador de Innovation Meets Cybersecurity: The Public-Private Cooperation Challenge